This is post #6 of our 2016 Copenhagen-Stockholm trip.
I can't resist it any longer.  Here are all the manhole covers we saw in Copenhage and Stockholm.  Just to give this a lofty air, manhole covers date back to ancient Rome and were made of stone.  There's even been several books written about them; one title is "Drainspotting."  Clever.
Look carefully at this one. . . and then the next one.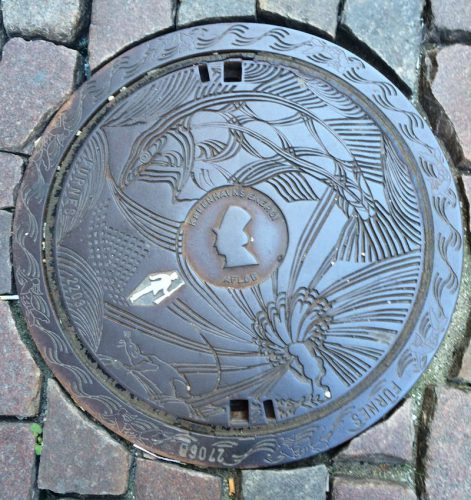 It's one of Hans Christian Andersen's stories "The Brave Tin Soldier."  In the lower manhole cover, he is in the water (remember he only had one leg) about to be eaten by the great fish.  I don't know what happened to the top manhole cover, but the tin soldier is missing.  Obviously these are from Copenhagen, Denmark.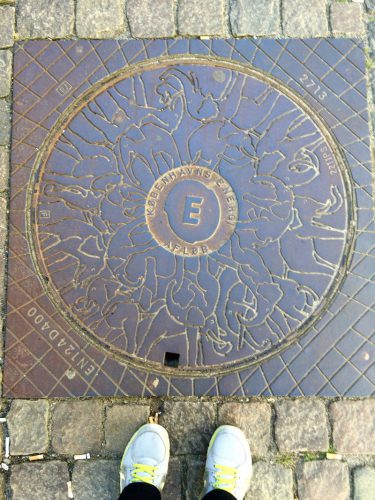 Another grand symbol of Denmark was the Elefantordenen, or "Order of the Elephant," a royal order to which a limited number of people can belong.  (I guess one has to die before another can be added.)  And upon the death of that Knight of the Order of the Elephant, they have to return their insignia; however, there are two exceptions: one is in Paris in a museum, and the other is on display at Dwight Eisenhower's presidential library.  I'm guessing that's why there are elephants all over this cover, found near Rosenberg Slot (castle).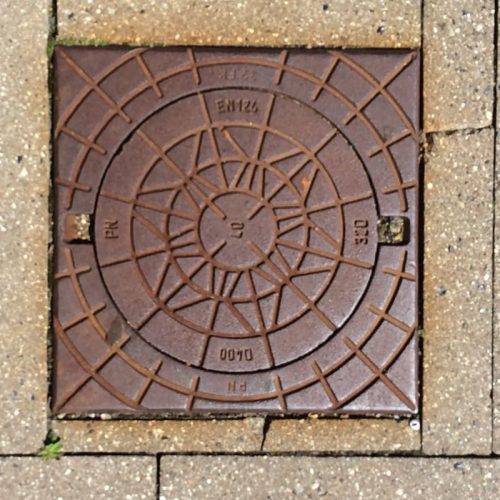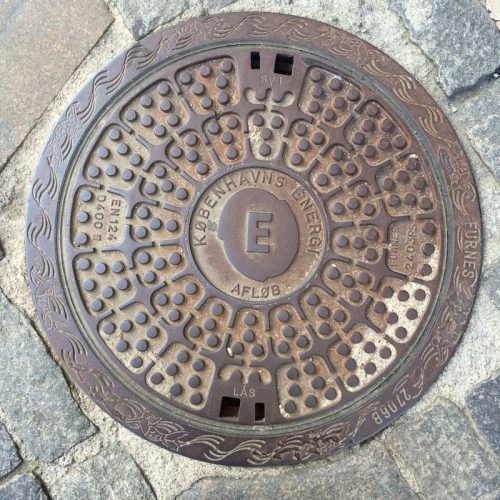 I'd been reading about an artist that is one of Copenhagen's native sons, Poul Gernes, and he seemed to grab circles out of the air and put them into his art.  When I saw this, and a few hundred other dotty motifs in Copenhagen, I could see where his art was coming from.  Here's one example, a poster from his exhibit at the Louisiana Museum of Modern Art (another one of those things I wish I could have gone to):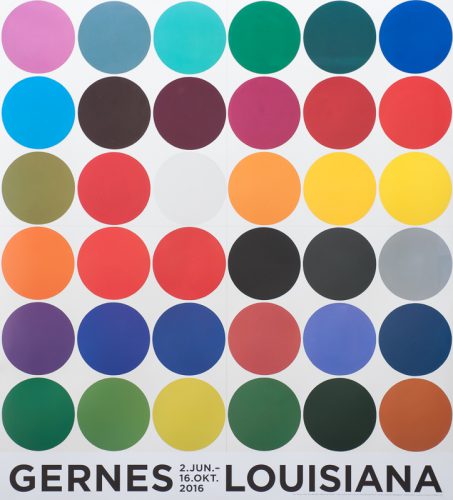 I was sitting beside sleeping Dave, trying to shake off his illness, browsing Things to Do in Copenhagen, and found news of this exhibit.  I then did multiple searches on him, finding his quiltish motifs irresistible, like visual catnip.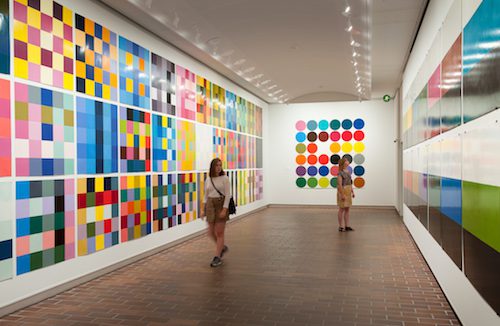 Here's some of his works installed at the Louisiana, a complicated train ride away.
How do I know that it's complicated?  That morning, when I'd tried to buy a Metro ticket to the Magasin Department Store, a couple from Italy showed me their paper with the directions (train connections) out to the Louisiana, written in English.  So I tried to help them.  They had a credit card, and it appeared that this machine would accept it (that was our problem in the airport–the machine "didn't like the card" according the to man helping us, so we had to try a different machine).  So that morning, the Italians (the woman spoke very limited English) and I selected what we thought was the ticket, only it didn't like that, and cancelled the selection, without any information about why.  We tried again, but now it showed they were buying four tickets, not two, and we couldn't find a way to have it be just two tickets.  Of course, there is not an agent in sight, only a line-up of tourists behind us.
So I tried buying my ticket, which went through, and now which creates another problem.  Once you buy a ticket, you have one hour to use it or lose it, so now the clock is ticking for me.  I turn to the couple behind me, who were from Britain, explained the situation and they took over, as I scampered down three flights of stairs to catch my train.  So when another day presented itself to head out to the Louisiana, I'm afraid I chickened out.  I found out only LATER, that at my station, upstairs, before you even go to the train-ticket-buying level (which is NOT the same level as the train-taking-level) there is a person there who can help.  I guess I just didn't want to be that far away from Dave.
Now back to the manhole covers.
This one is from Tivoli Gardens, as the motifs on the upper left and lower right are the main entry gate, shown below: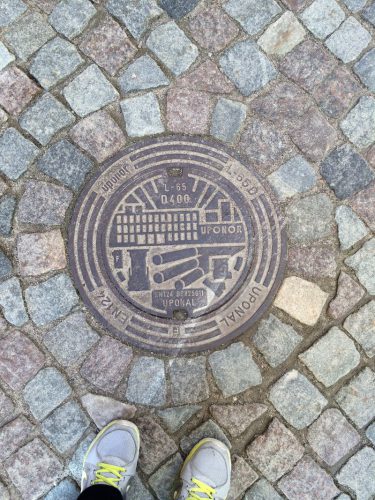 I think UPONOR does sewer, drainage sort of things, but I did love the way the cobblestones are set in a circle around this one.
And to further enrich this post, here is a section from Wikipedia that bears re-reading:
The question of why manhole covers are typically round (in some countries) was made famous by Microsoft when they began asking it as a job-interview question.  Originally meant as a psychological assessment of how one approaches a question with more than one correct answer, the problem has produced a number of alternative explanations, from the tautological ("Manhole covers are round because manholes are round.") to the philosophical.
Reasons for the shape include:
A round manhole cover cannot fall through its circular opening, whereas a square manhole cover may fall in if it were inserted diagonally in the hole. The existence of a "lip" holding up the lid means that the underlying hole is smaller than the cover, so that other shapes might suffice. (A Reuleaux triangle or other curve of constant width would also serve this purpose, but round covers are much easier to manufacture.)
Round tubes are the strongest and most material-efficient shape against the compression of the earth around them, and so it is natural that the cover of a round tube assume a circular shape.
A round manhole cover has a smaller surface than a square one, thus less material is needed to cast the manhole cover, meaning lower cost.
The bearing surfaces of manhole frames and covers are machined to assure flatness and prevent them from becoming dislodged by traffic.
Round castings are much easier to machine using a lathe.
Circular covers do not need to be rotated to align with the manhole.
A round manhole cover can be more easily moved by being rolled.
A round manhole cover can be easily locked in place with a quarter turn (as is done in countries like France), which makes them hard to open without a special tool. Lockable covers do not have to be made as heavy, because traffic passing over them cannot lift them up by suction.
Honestly, I've never thought about why they are generally round (some are not), but I just enjoy them when I see them!