This is post #8 of our 2016 Copenhagen-Stockholm trip: Tuesday, August 16, 2016.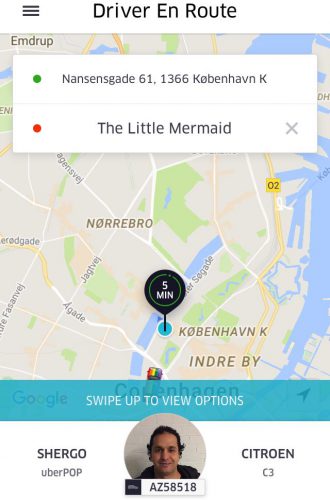 After an afternoon rest, we decided to use Uber to get to the Little Mermaid, as it was not near any Metro, nor bus lines that we could decipher (I hadn't yet found that Metro map).  When we talked with Shergo, our driver, we found out he was a student (immigrant) and was being paid to go to school, plus $1000 dollars per month.  I wonder if the Swedish government knows he's driving Uber in his spare time instead of studying.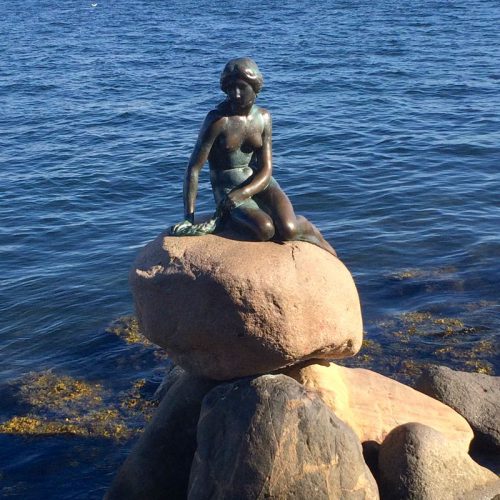 Sweet and sublime, perched on a rock by herself…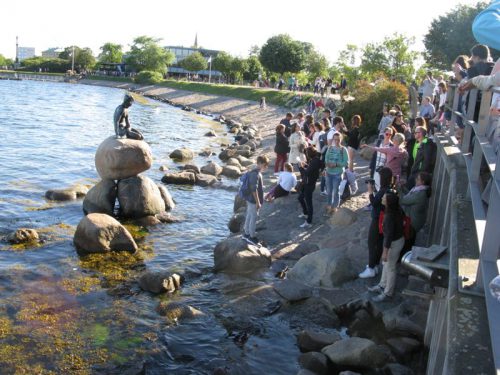 …and a multitude of her closest friends.  I understand that this scene is repeated often, and when the tide is out the tourists get in a long line to pose right beside her rock, which means you could never get a photo of her unless you were in line, waiting to pose with her too.  Ah, tourists.  We are a funny lot.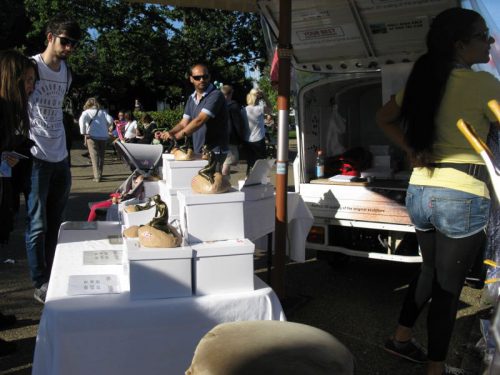 The statuette industry was out in full force, too.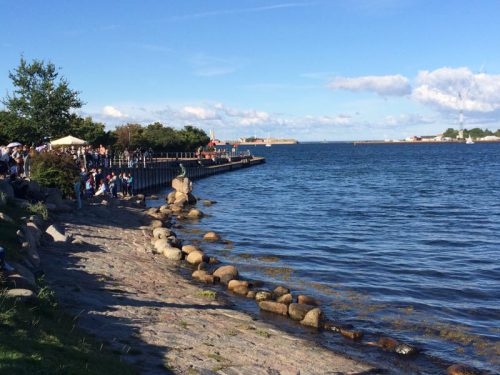 We walked on, away from that site.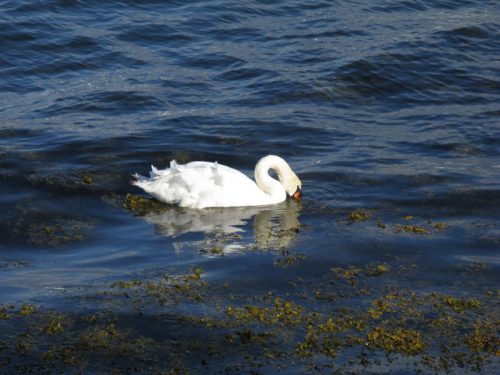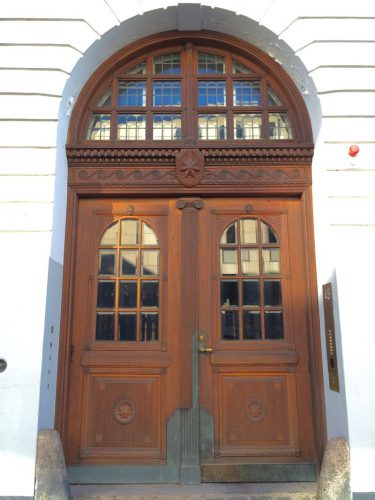 And now we are strolling tourists, walking through sections of the city we've not seen before.  The light has a beautiful quality–that golden light right before the sun starts to set, which makes all the colors richer.
Monument to those who fought bravely: this is an explosive mine, used in the harbor.  This park was the site of the Danish Resistance to the Third Reich and the Nazis, and is named Churchillen Park, after Mr. Churchill.  We walked on, heading for Christianshavn.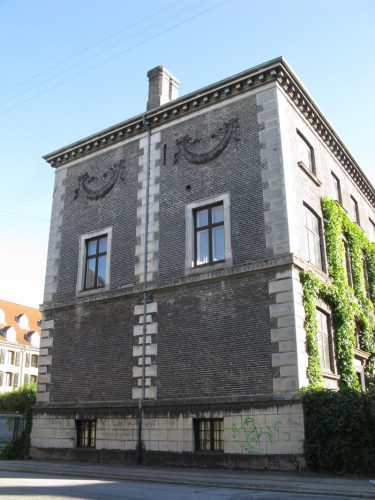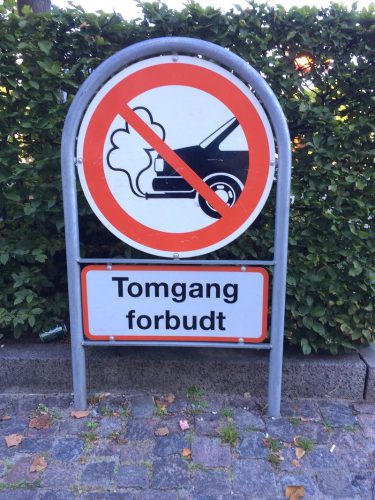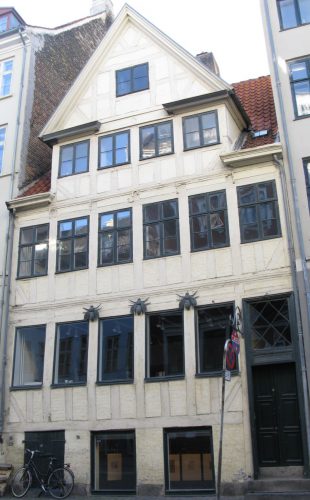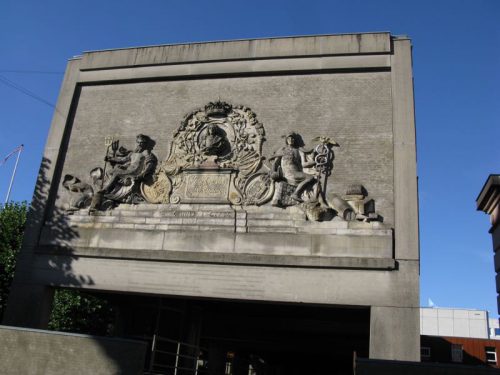 Decorative building wall.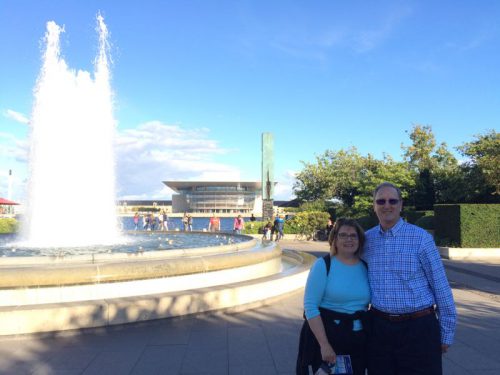 The fountain drew us in, and we enjoyed the view of the Copenhagen Opera House: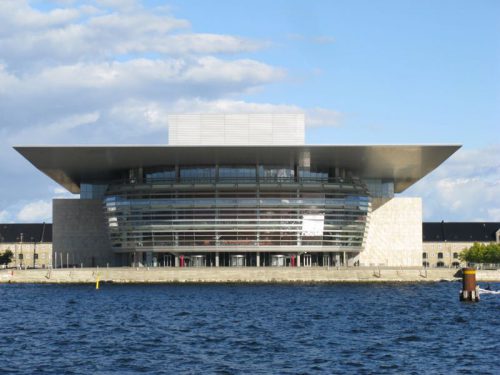 After spending a few mintues here, we noticed what was across the street: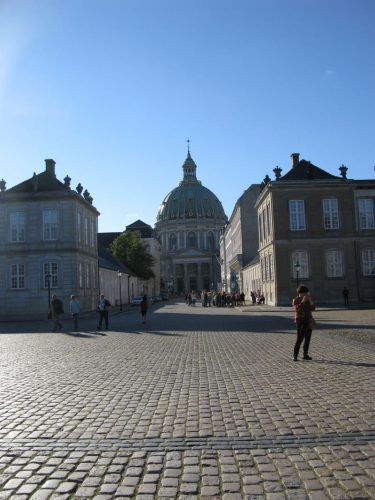 That dome in the back is the Marble Church, behind the plaza for Amalienborg Palace.  We heard the clicking of steps and the calls of a marching group of soldiers and went to watch the changing of the guard.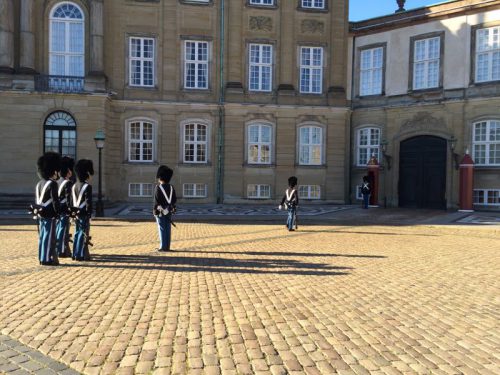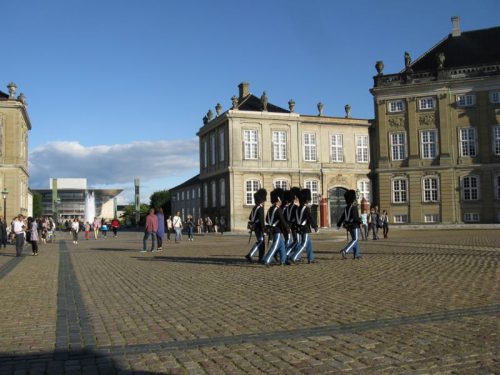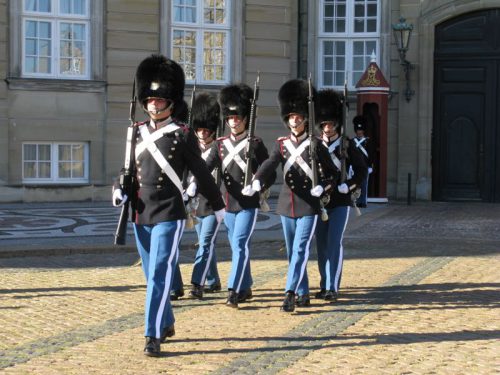 Yeah, apparently I was standing inside their marching lane and had to quickly get out of the way.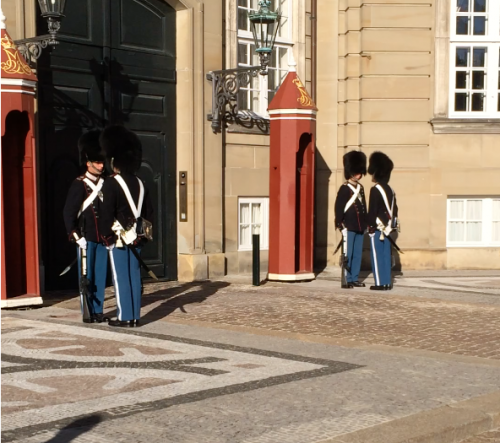 They did this interesting face to face thing, and we supposed that they were reporting in on any weirdo tourists lurking about, or other matters of state.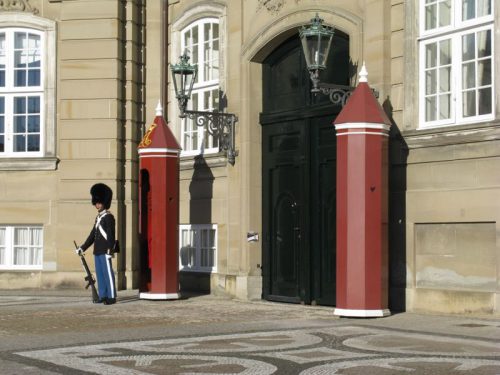 On the side of each guard box/tube is a small cut-out heart.  This place is so charming.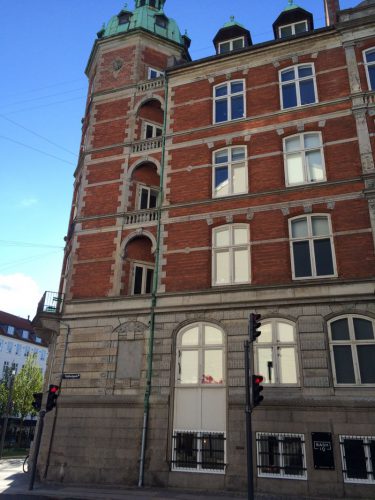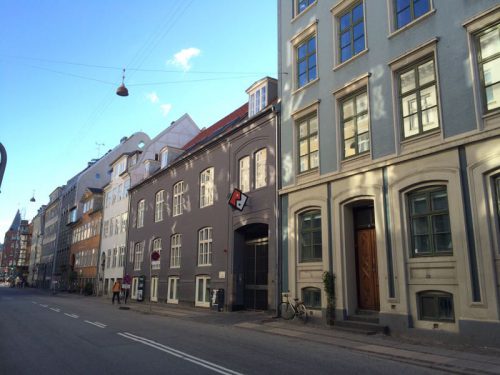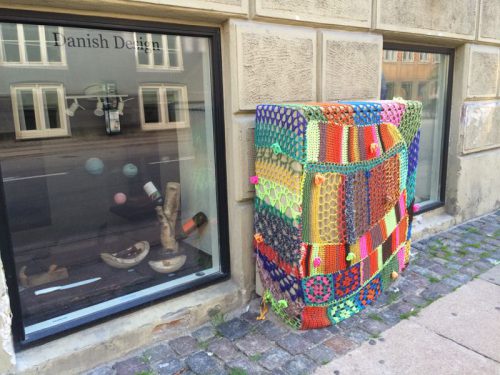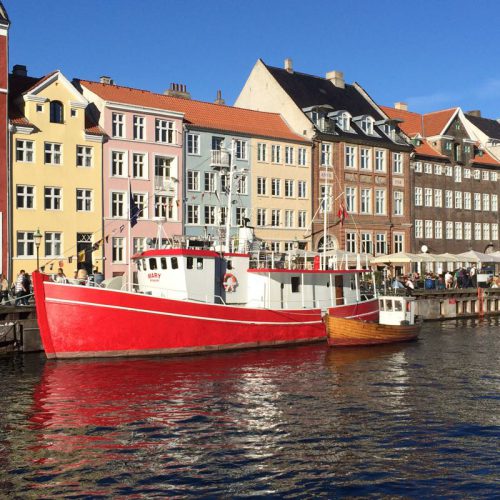 We found Nyhavn again, but turned left up and over the pedestrian bridge, apparently pretty new and…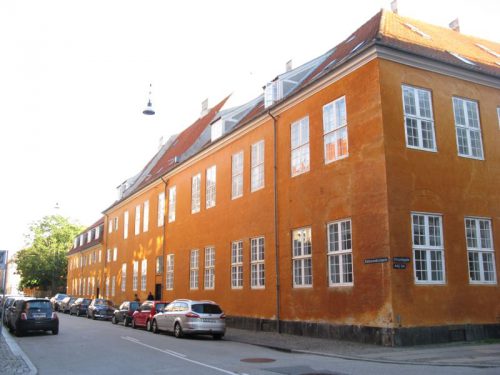 …into Christanshavn, not really knowing where we were going, but trying to check another thing off the tourist list.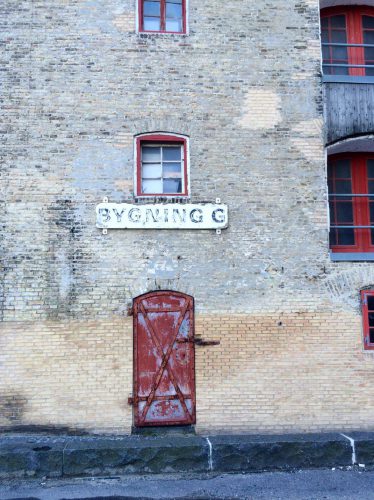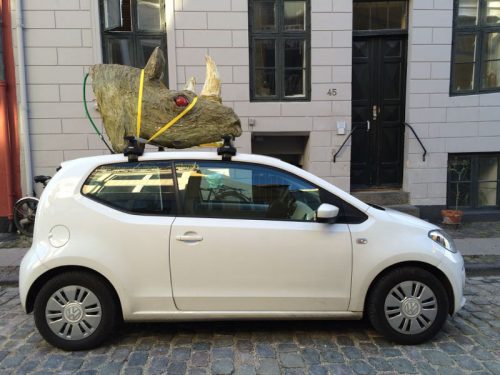 Yes, that really is a rhinosaurus head strapped to the car.  It appeared to be some sort of art project, though. Not real.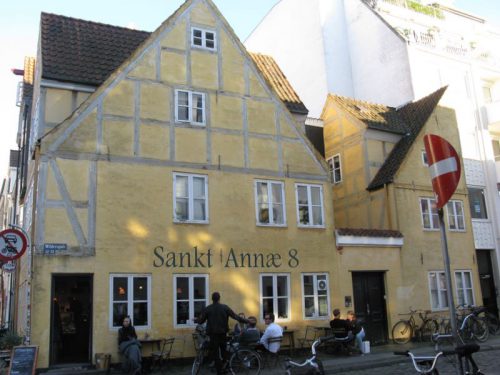 The pub across the street with a figure near the door that looked like a cross between Angelina Jolie/David Bowie with impossibly high cheekbones.  We never could figure out what gender the figure was, but s/he looked like a visitor from across the River Styx.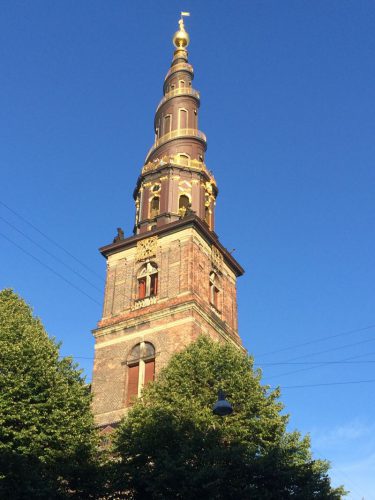 When we were walking around we loved seeing this steeple of Vor Frelsers Kirke, but we were there too late to enter the church or climb that spiral tower.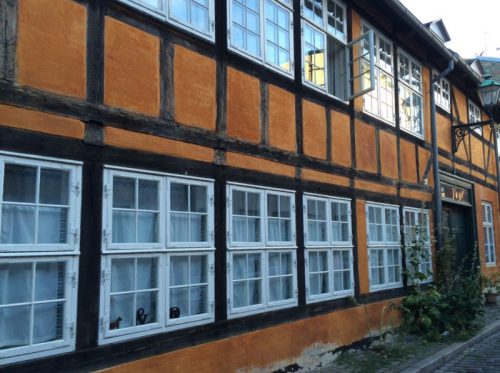 One of the oldest streets in Copenhagen, we enjoyed seeing the half-timbered front of the houses.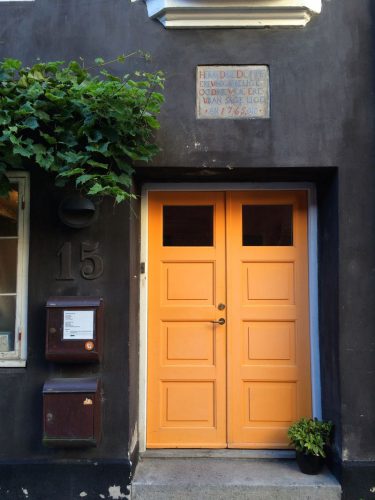 Yes, it's does say 1765 over that doorway.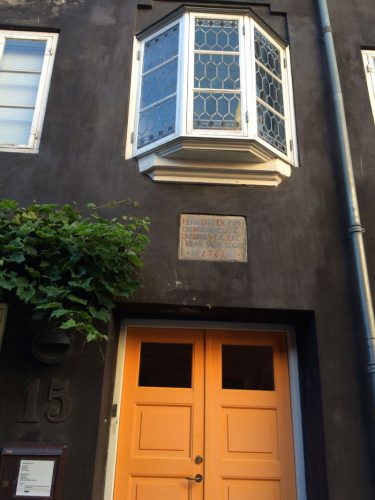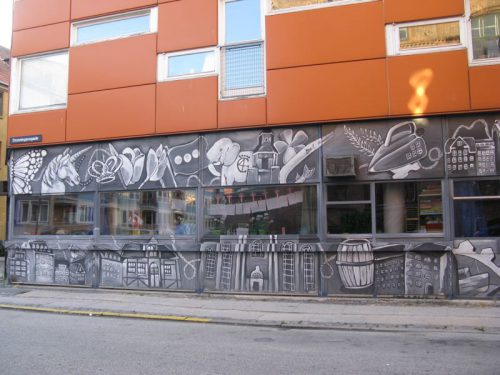 Since Dave wasn't feeling well we decided to jump on the Metro and take it back to our neck of the woods.  This wasn't grafitti, but decor painted on the walls.  We liked how the sunlight seemed to be steam coming out of the iron (on the upper right of the photo).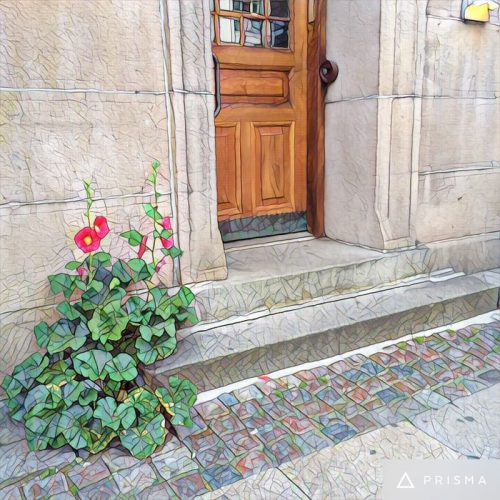 Here's another rendition of that hollyhock by the doorway, signs that we were almost back to our hotel.  Dave went right up to our room, but I said I was going to go and get something to eat.  I tried the pizza place from the first night and it was jammed.  I guess Tuesdays are popular nights to hang out.  So I found another pizza place that baked some pizza-dough-like bread and put in a couple of thin slices of ham, sliced tomatoes and a wad of lettuce.  I took it back to the room, removed the wilted lettuce and enjoyed the rest.  We spent a quiet evening, getting some rest, letting Dave practice his presentation for the next day.