Lisbon and Spain • March 2016 / #6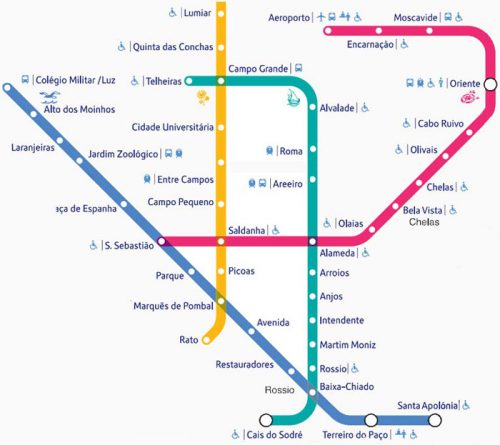 Start here, with the Lisbon Metro map.  Our hotel was on on the Saldanha stop, where the red and yellow lines intersect, and it was a giant station.  In our few days in Lisbon, I think we came out every one of their several different entrances, always trying to make our way back.  We could access it very easily, but always were confused on the exit.
But the decorative surfaces!  One article, that has a wide range of photographs of the subways, notes that we weren't supposed to take photos of the subways, but luckily I read that one year later.  We started keying into the decorated subways almost immediately (how can you not?), but really figured out what we were missing after our visit to the tile museum, on our third and final day.  Then it became race to see how many we could visit before we had to leave Lisbon.
This post is picture-heavy, so you may want to use speed-scroll to get through everything.  Believe me when I say I edited down the pictures by two-thirds!
Here are some of the stations we visited:
São Sebastião
Apparently this is designed to represent trees.  All I could see was quilt designs.
Oriente–artists from five different countries contributed to these tiled murals.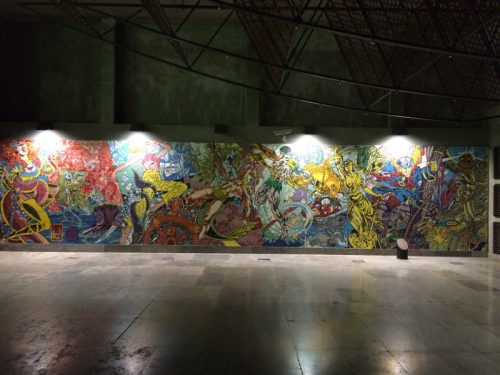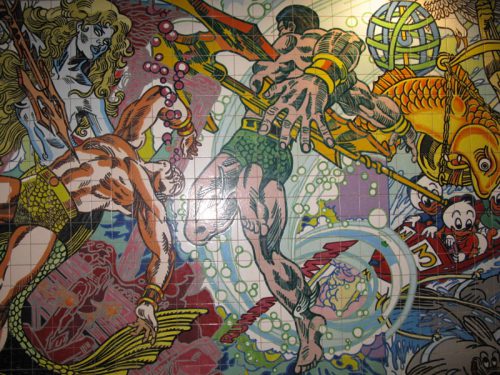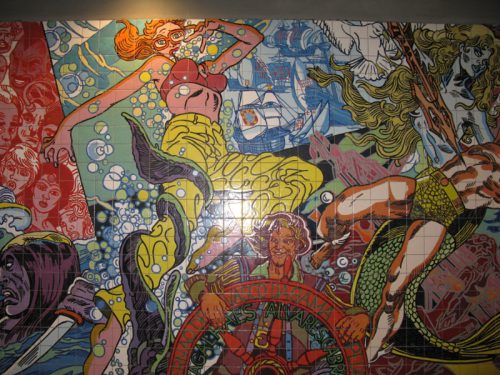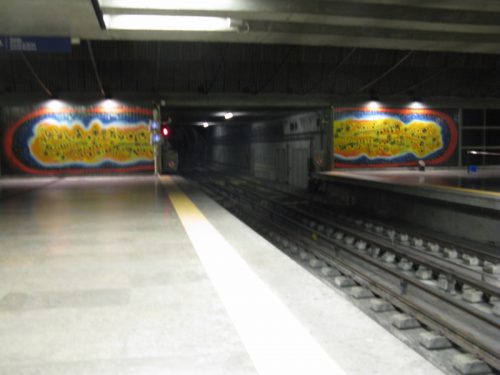 A blurry shot, but I wanted to show placement of the next two images: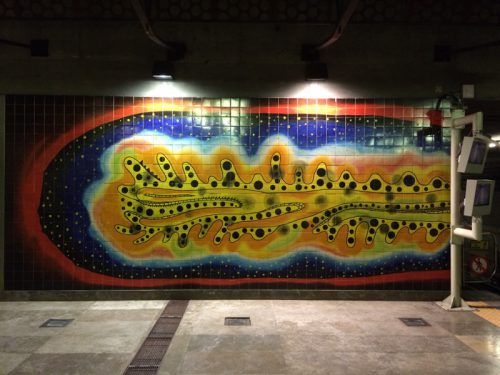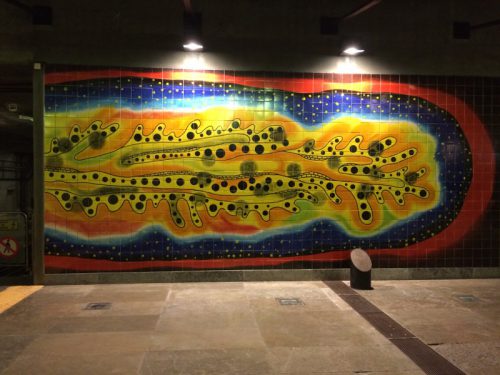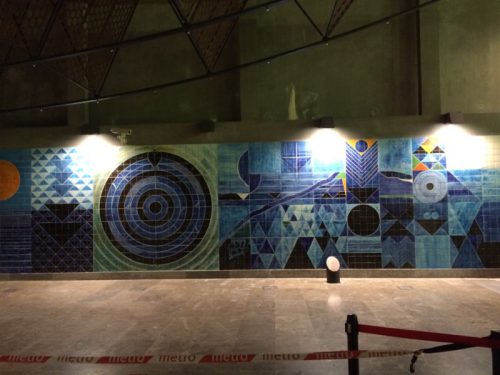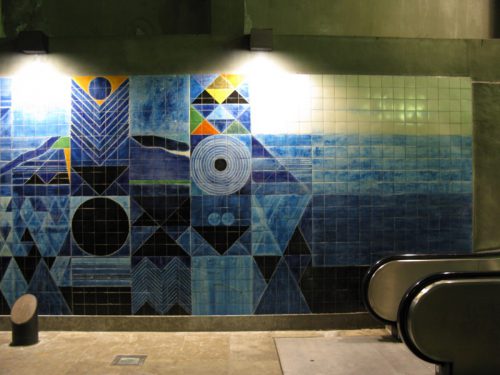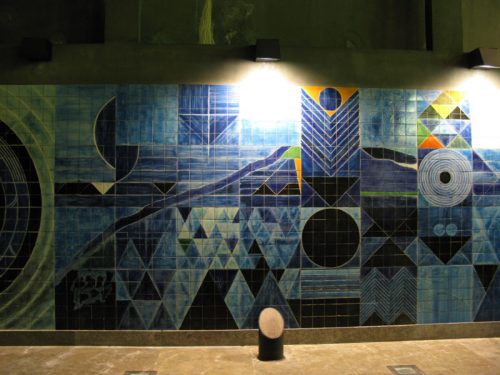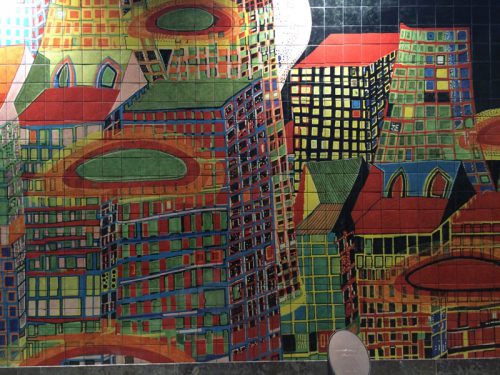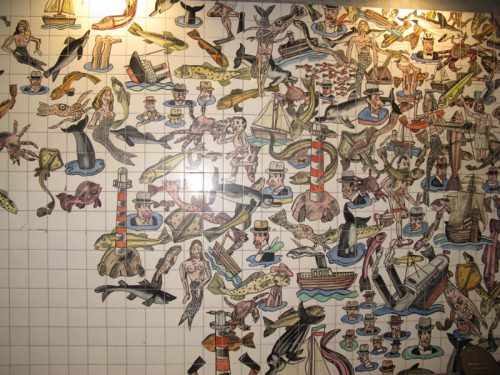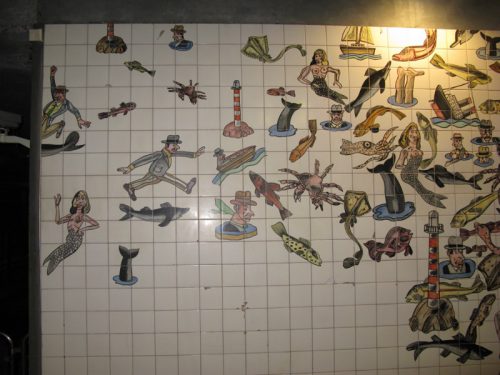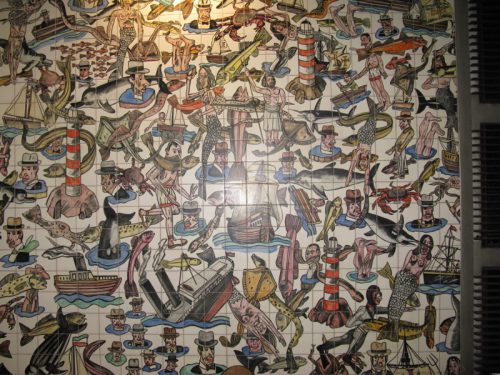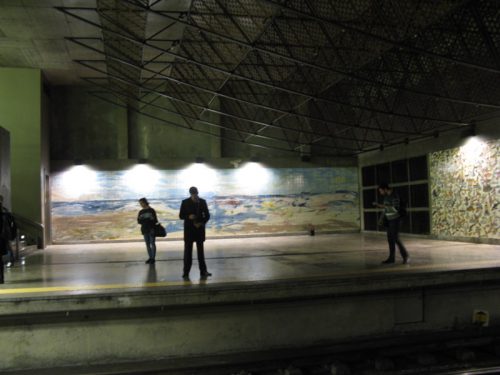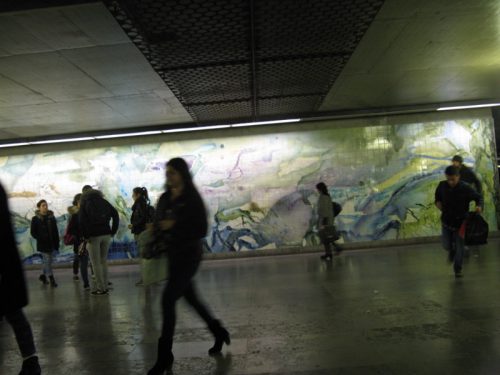 I imagined it would be a challenge to create artwork that would be seen mostly in dark, underground passages, but this station was especially dark.  Maybe it was supposed to be moody.
Alvalade--evidently based on a story that I could not locate; however, the illustrations are fanciful.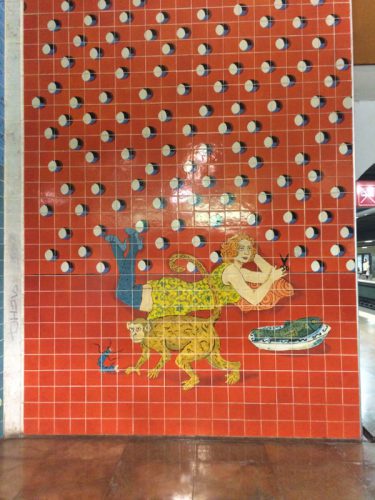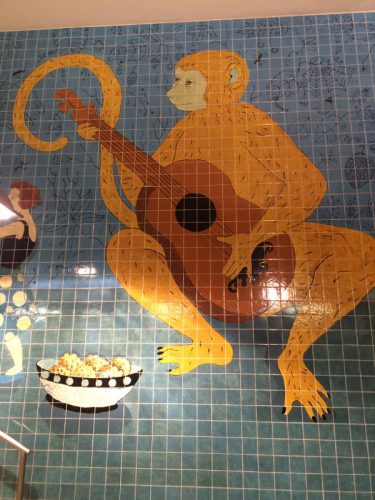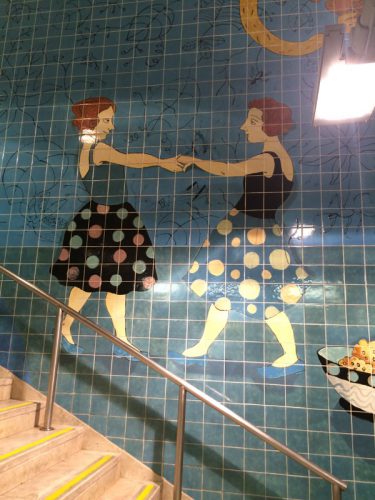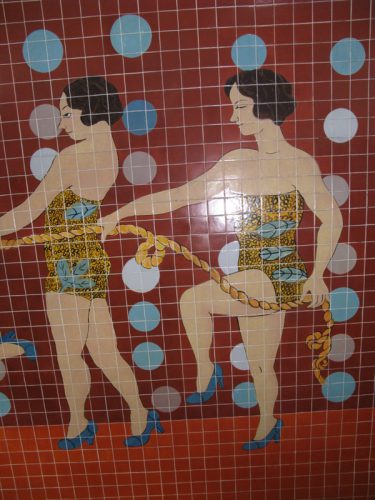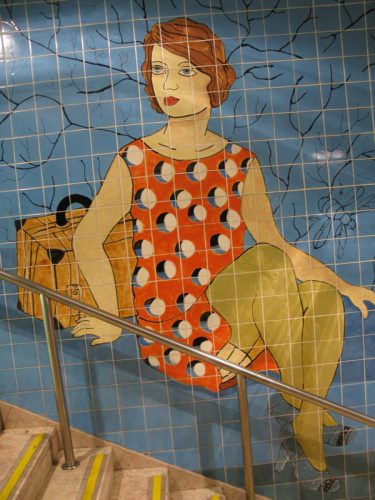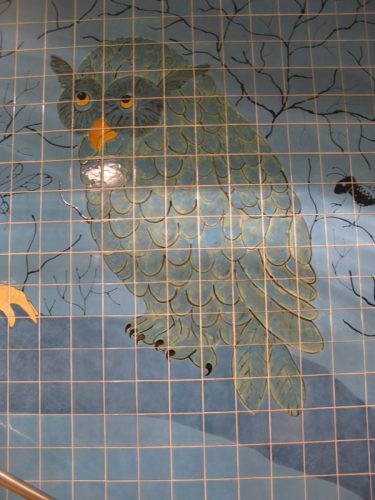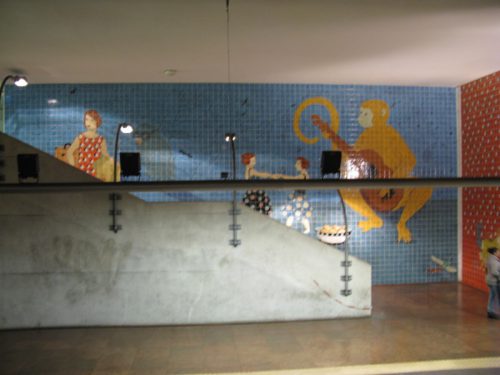 This last shot was taken as the subway train was taking off.  We saw many stations from the windows of the moving train, not having enough time to get off and on.
Martim Moniz–a station near a plaza dedicated to martyred Christian soldier.  Apparently some of this is plastic on top of tiles, but it felt like tiles to us.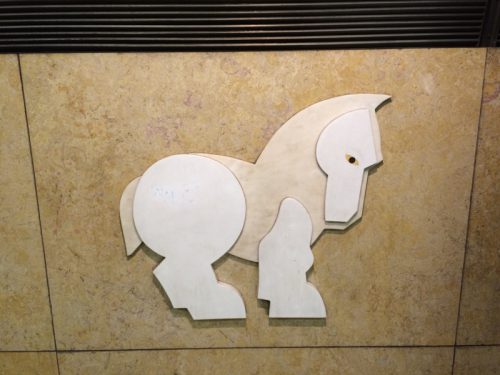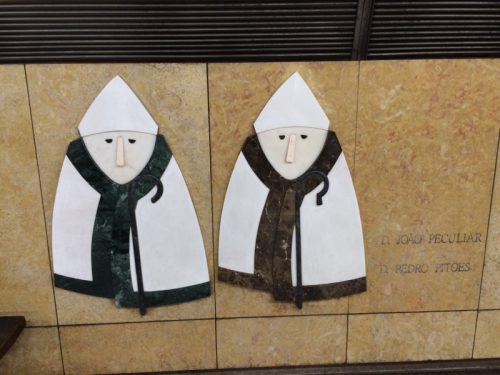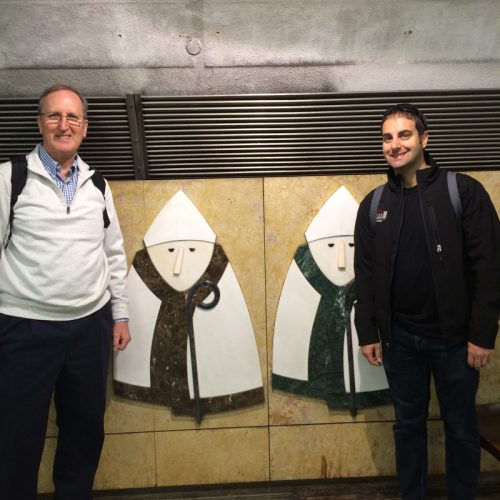 Chad was with us this day; this gives you a sense of the scale of these figures.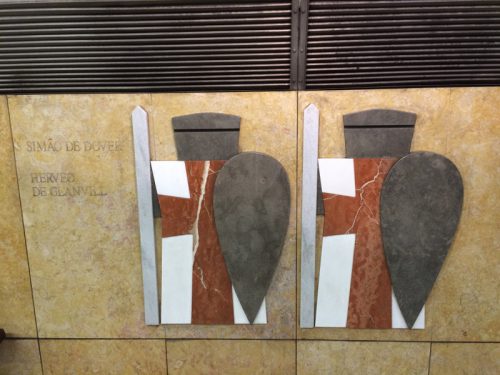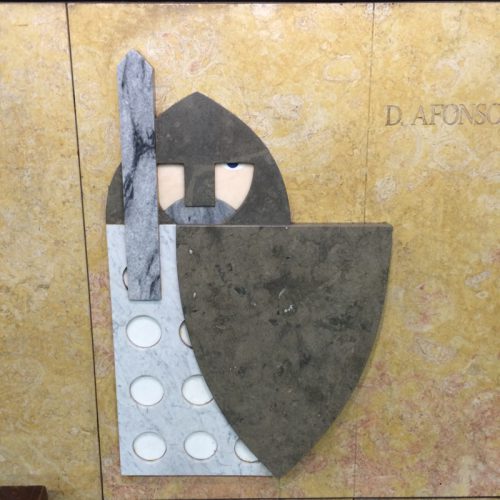 Loved the eye peeking out from under the helmet.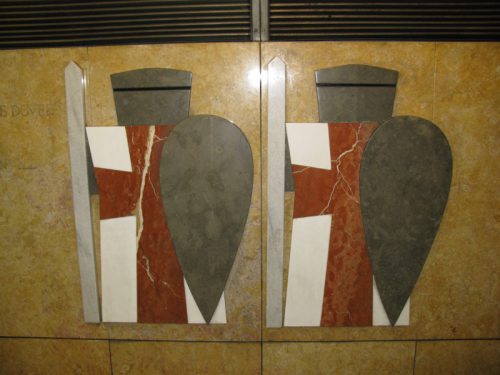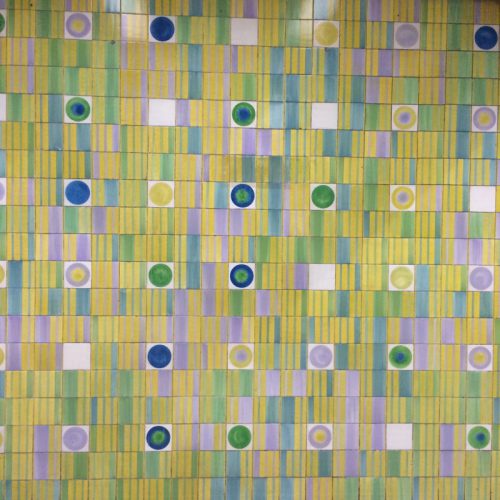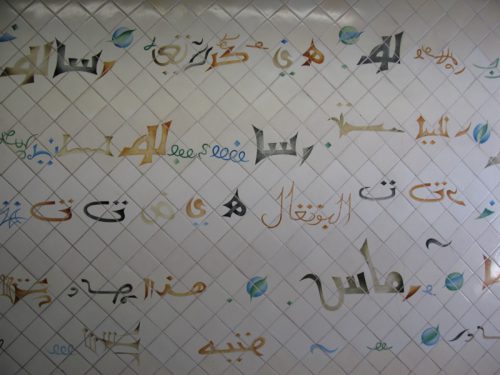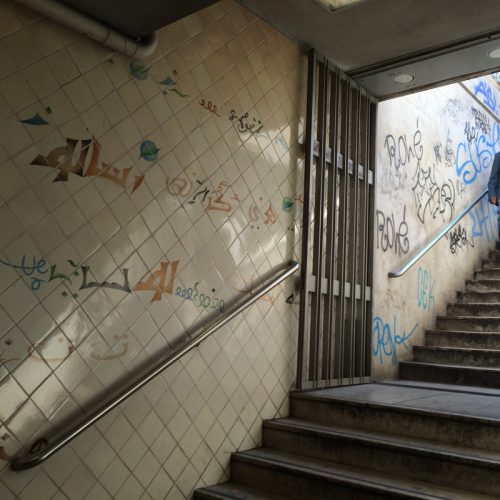 Restauradores–We used this metro stop to go to dinner the second night, with Chad, near a street that had tons of restaurants, mostly tourist-catered, mostly B-grade.

They had a magnificent mural titled The Arrival, for when Portugal "discovered" Brazil.
The "artists Jorge Vieira and Luís Filipe de Abreu worked the theme "The Universal Human Characteristics" in individually distinct tile and stone sculptures," or so the official webpage declares.  We just thought it was pretty funky.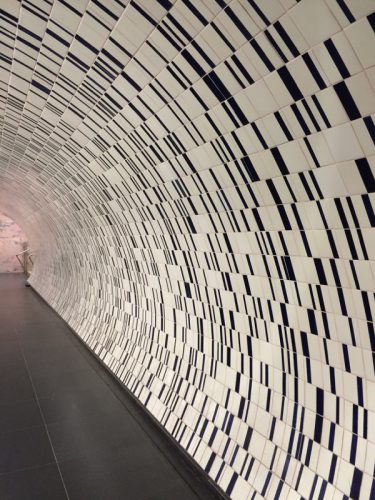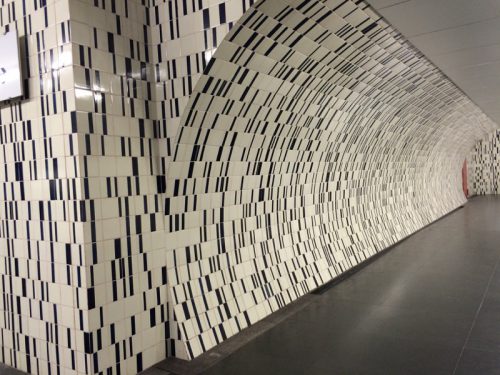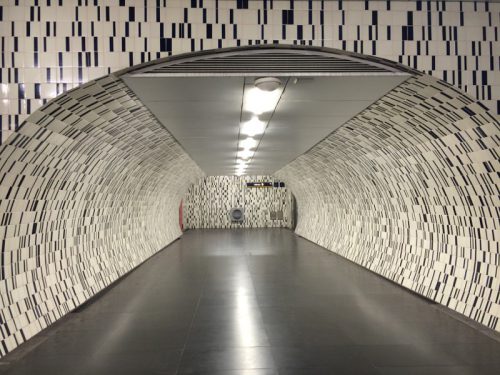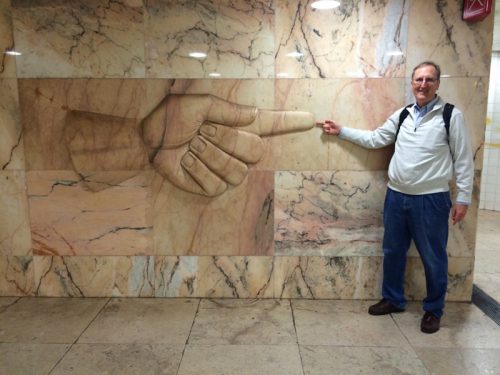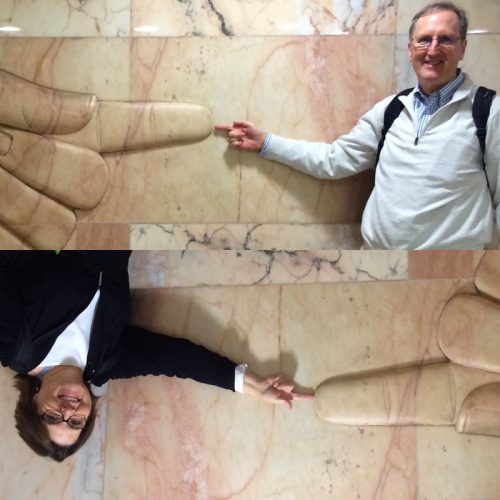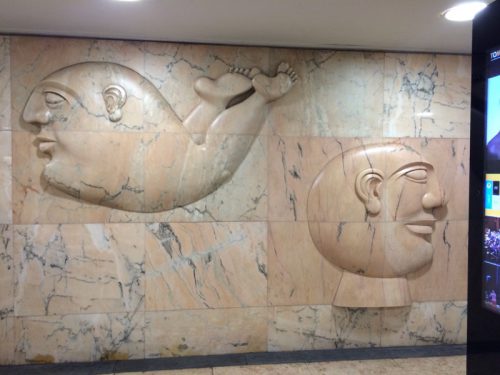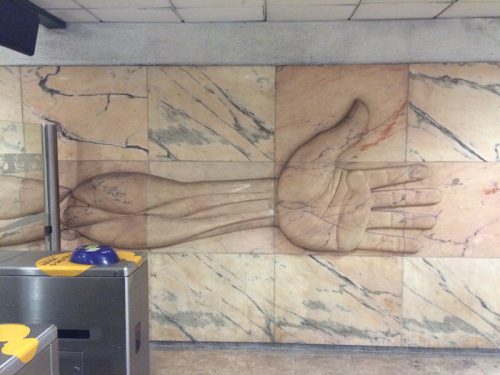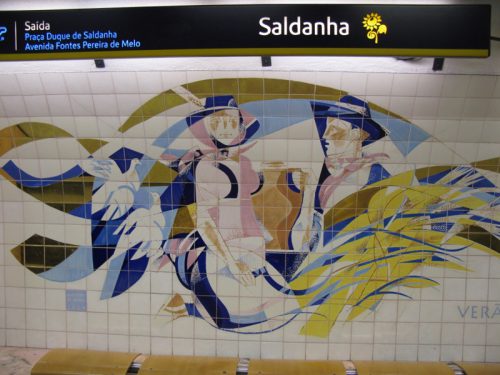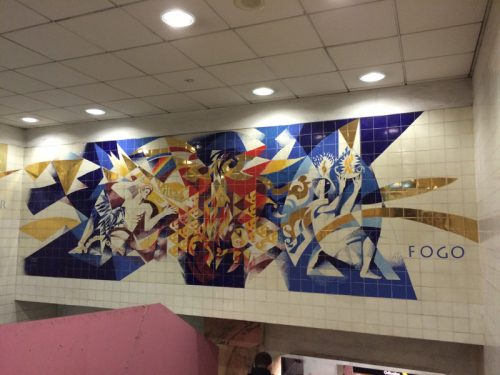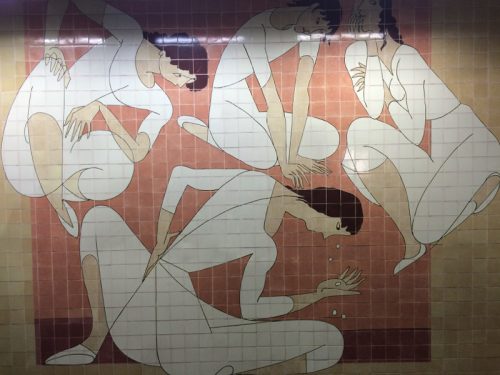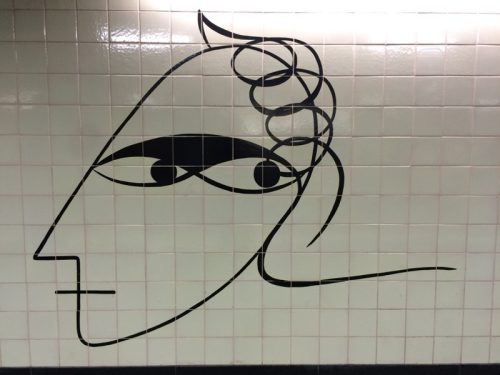 Two random shots (I have no idea where they were from):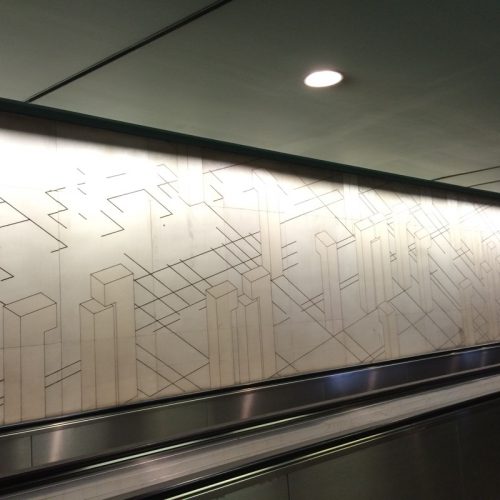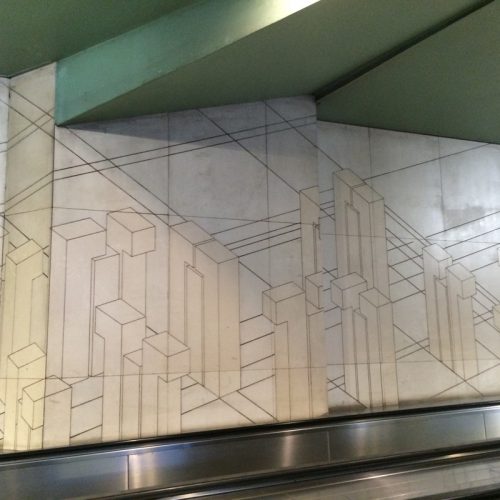 And now, the final station, Campo Grande.  Again, from the official website: "Campo Grande station opened in 1993. Its walls are covered in painted tiles by Eduardo Nery, whose work  interprets the typical 18th century tile motifs known as figuras de convite or welcoming figures."  They had an example of his work in the Tile Museum, and in an interview with him in the movie, he said he went over to supervise the installation of the tile in the Metro.  When one of the workers asked him if he was worried that they would install the tile wrong, he replied, "I'm worried that you will install it correctly."
When you see the installation, you'll know what he meant: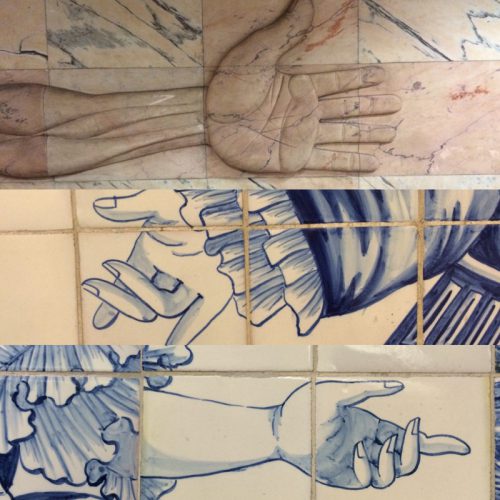 While we loved all the subway tiles and decorations and pictures, and subways can get us places quickly, we missed traveling above ground in the trams, and by walking around.