(This is the 22nd and final post of our Croatia-Budapest trip, June-July 2014)
Tuesday, July 1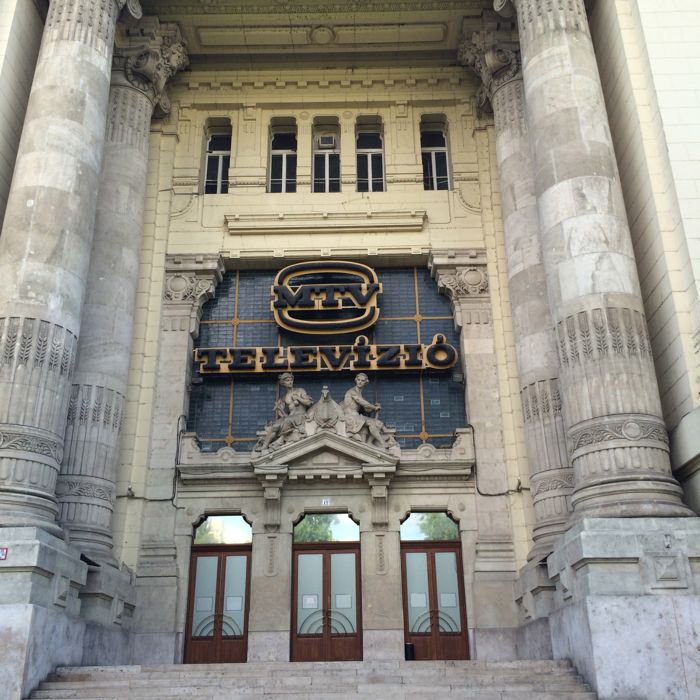 We continued walking down the main boulevard, and seeing this one we both instantly thought of all the Communist propaganda that must have spilled from this building, the Hungarian State Television building.  It's now been converted into luxury offices and apartments, or so says our guidebook.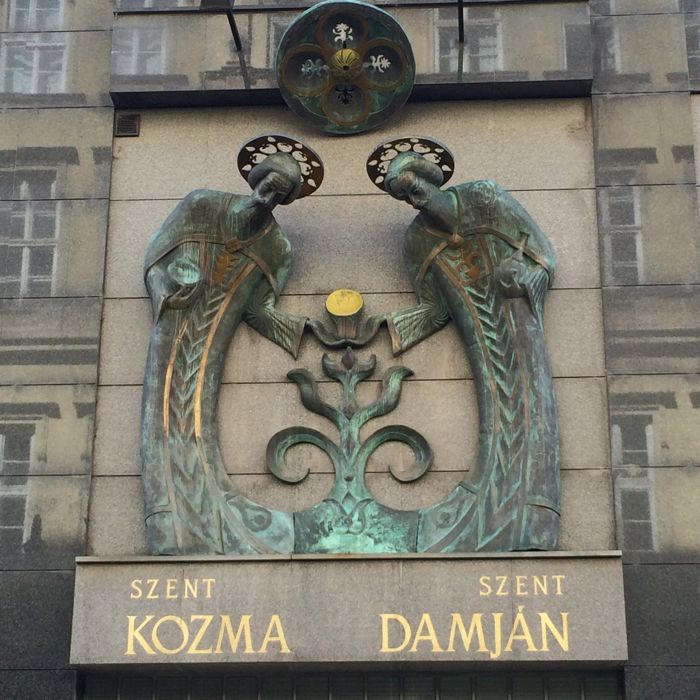 While I loved the stylized sculpture found on the side of a building under reconstruction, it was only after we got home that I was able to look it up and see what it was (from a Hungarian website, translated into English):
"Saint Kozma (Koszmasz) and Saint Damján (Damianosz) (3rd. century) Christian doctors [and apparently twins].  Damján came from Arabia and engaged in medical practice with Kozma in Minor Asia, Cilicia Aegea. Both were very zealous Christians and suffered martyrdom in 303 because of the the Roman emperor Diocletian's ordered christian persecution. They were later canonized and honored by the Justinian church pilgrimage by thousands of patients in search of healing. When in 1260 formed the first college of surgeons in Paris, they opted for the patron, and since that time respect them as the patron of the doctors and surgeons.  The sculpture is located in the V.th. district on the wall of a polyclinics."
They are often depicted holding a box, to dispense medicine.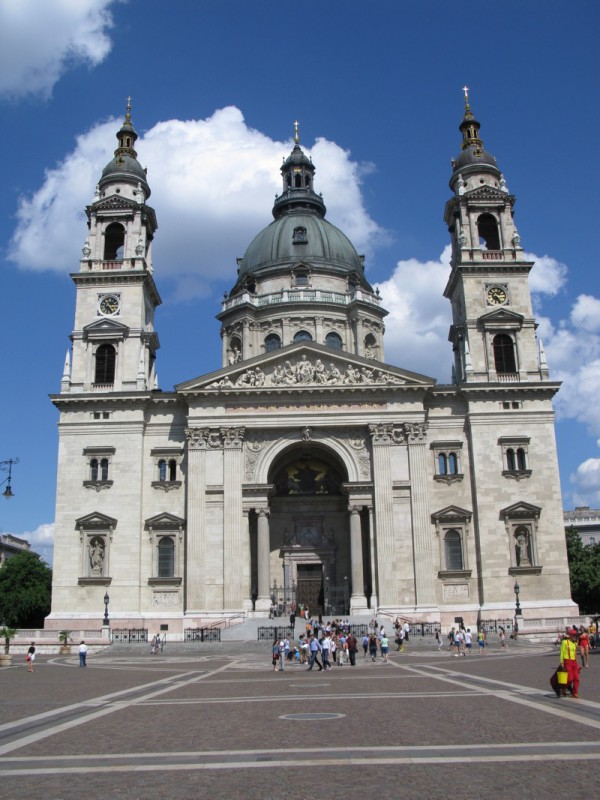 This was our destination: St. Istvan's Basilica, only about 100 years old, built in Hungary's millenial celebrations in 1896.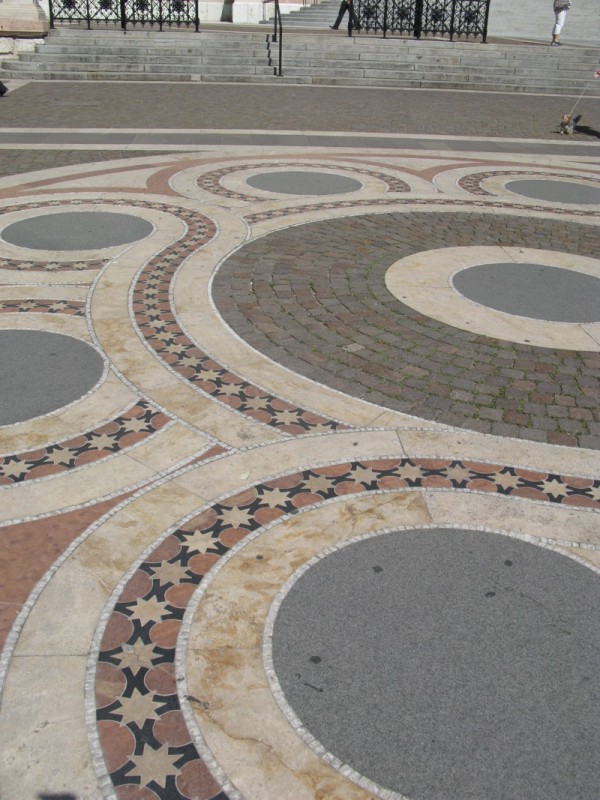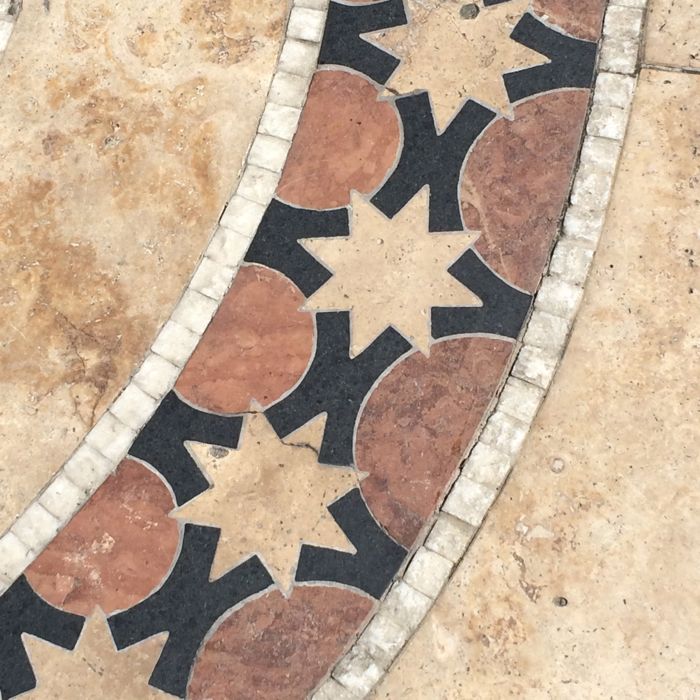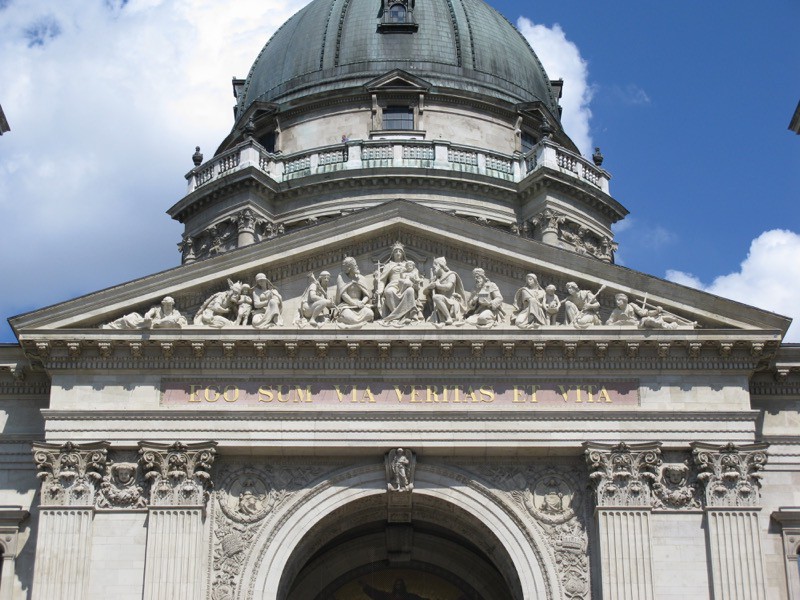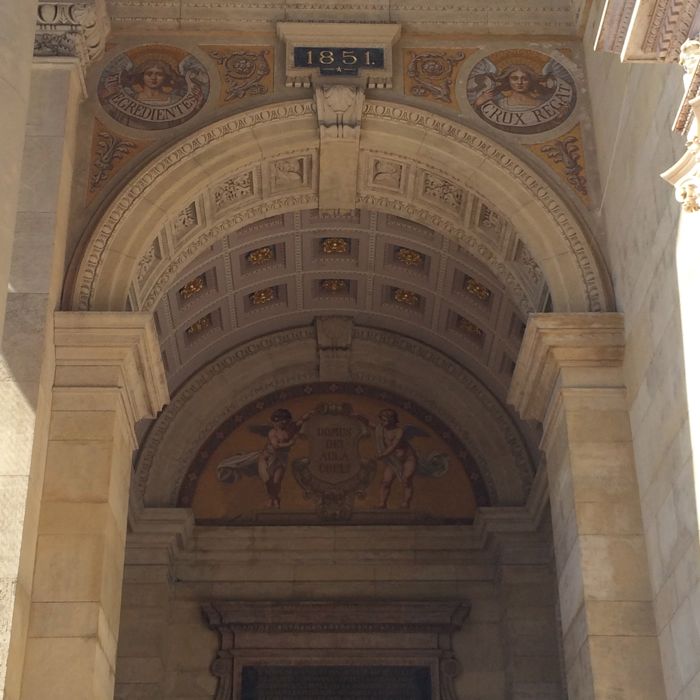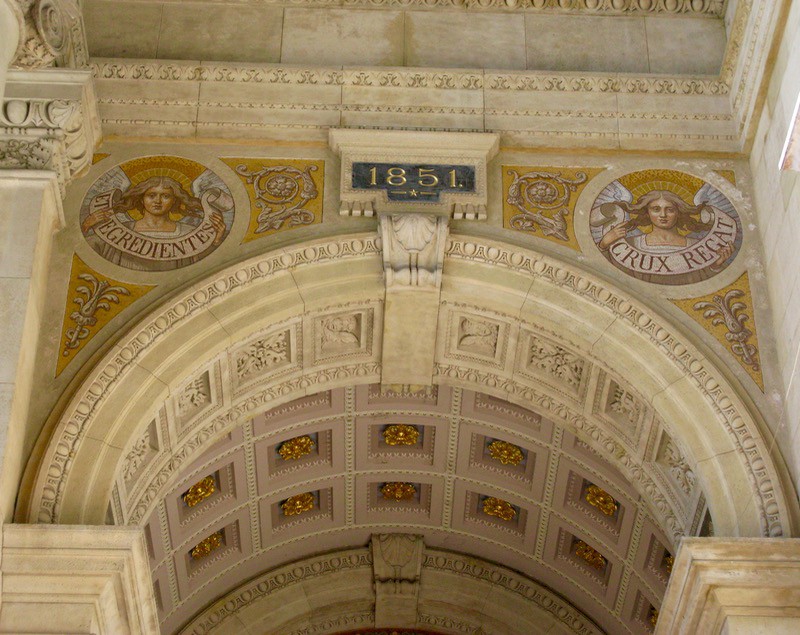 So, no.  I don't know why there is an 1851 on the arch outside.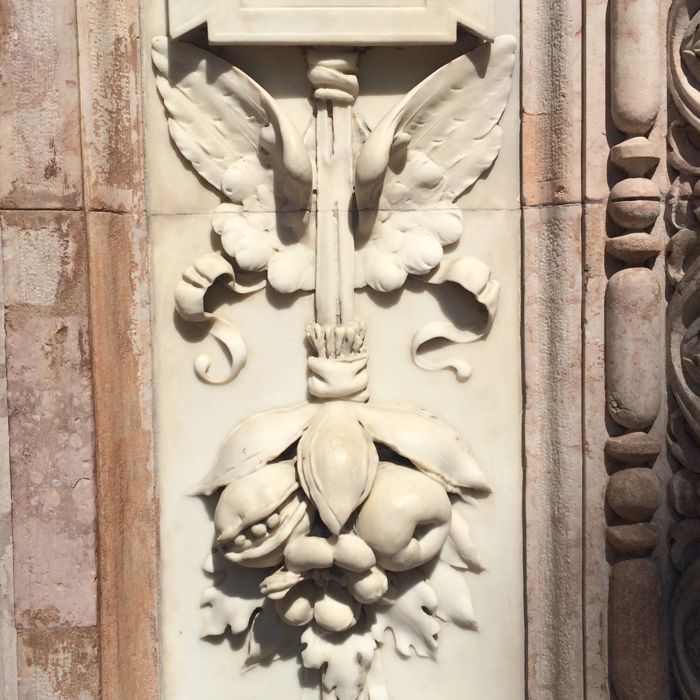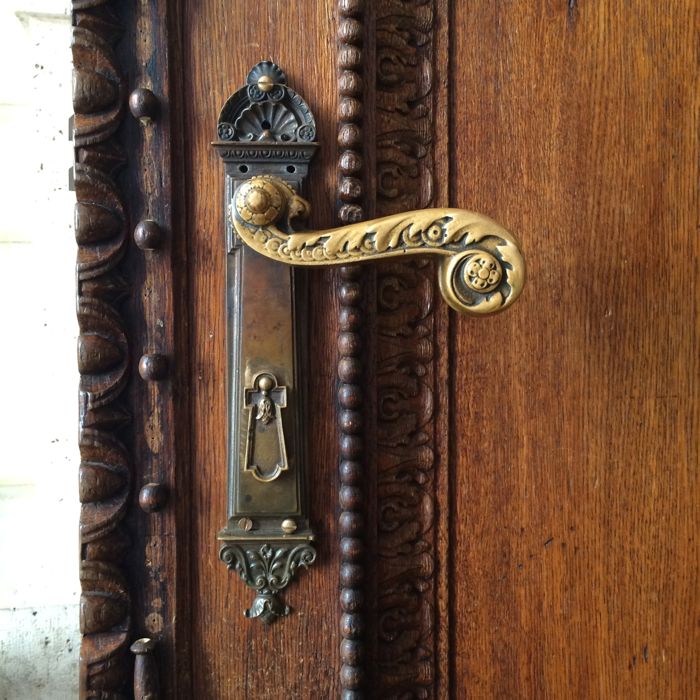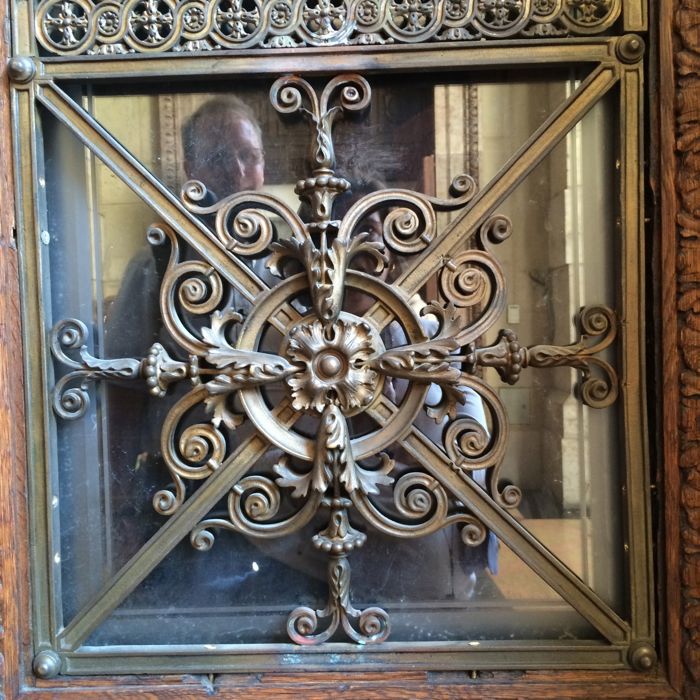 Hi, Dave!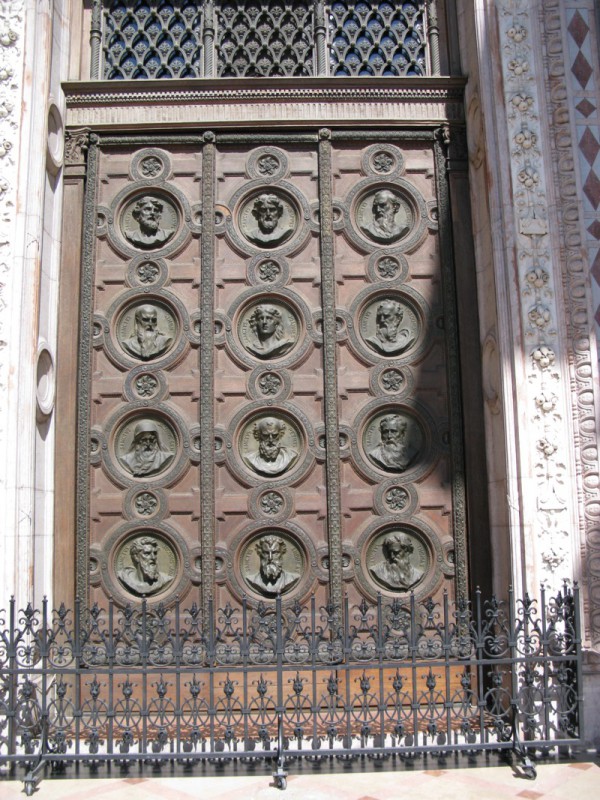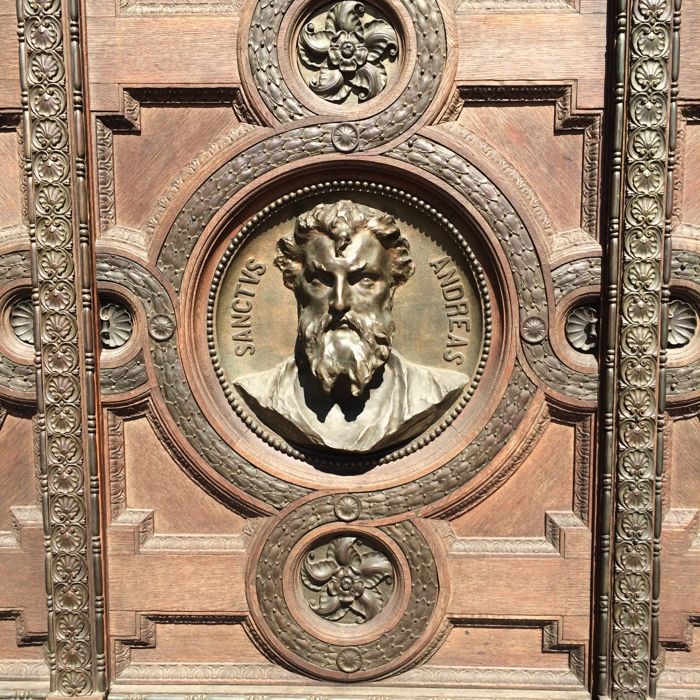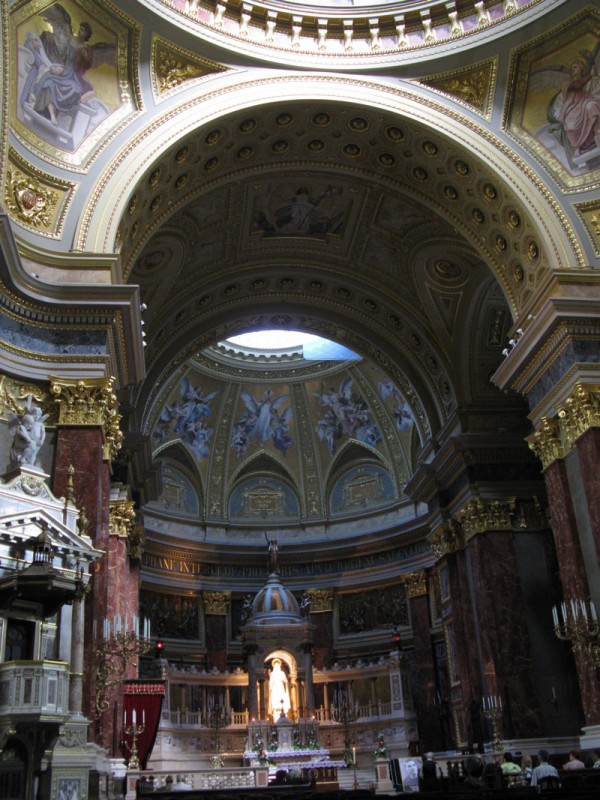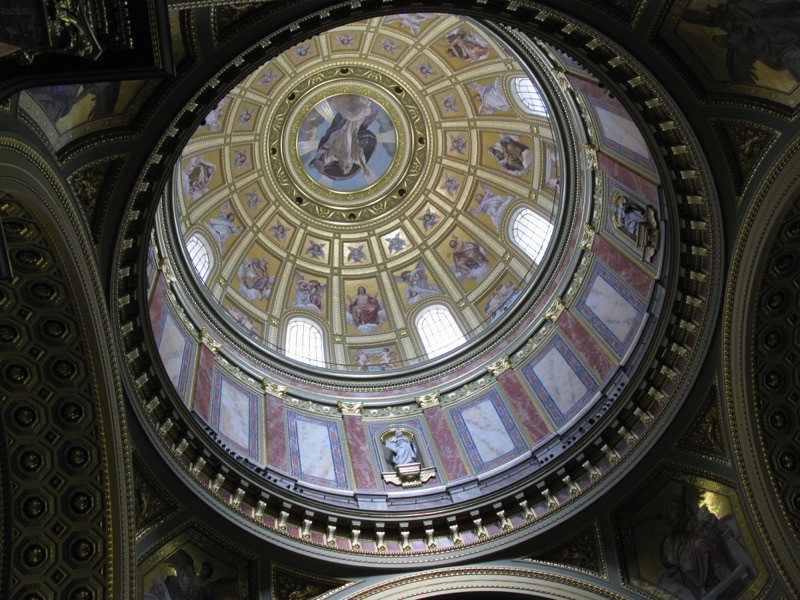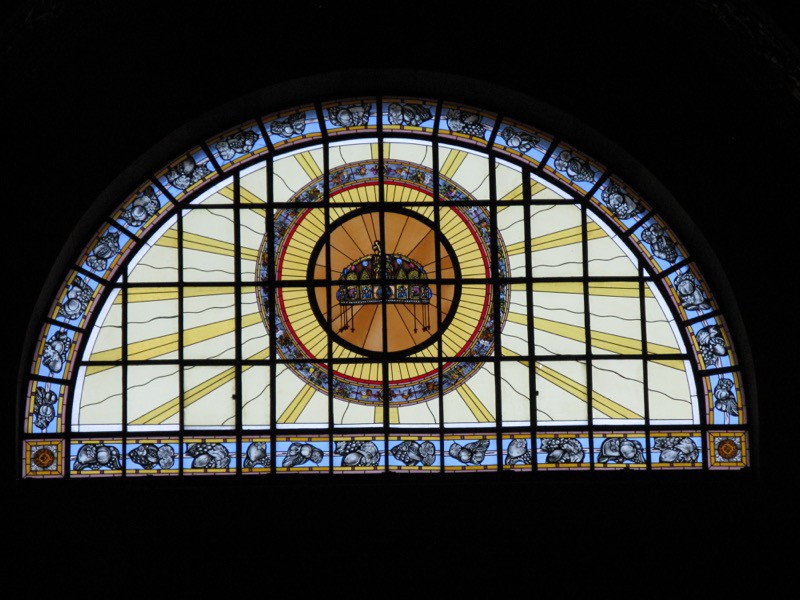 This church's claim to fame is the "holy right hand" of St. Istvan, kept in this jeweled reliquiary.  I like how Dave caught the stained glass windows in this photograph.
We decided to walk across the Chain Bridge–a Budapest landmark, and sauntered dragged ourselves that direction, when Dave found a National Hungarian Souvenir Shop.  We found our last chance for some souvenirs!  A necklace for me, and two carved birds for him were what we purchased, but there were many lovely things to choose from.  Satisfied, we walked on.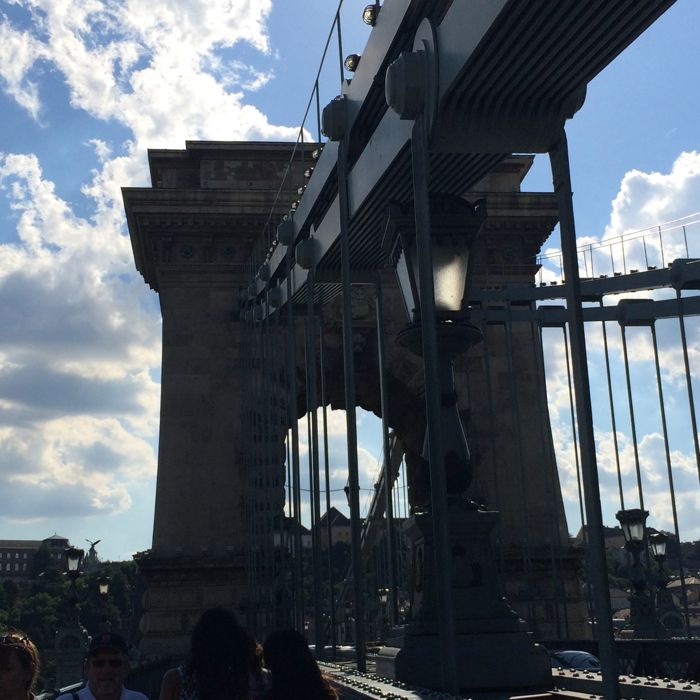 According to the guidebook, this bridge was commissioned by Count Istvan Szechenyl, after he was stranded on one side of the Danube for week during the winter, as there were no permanent bridges then, missing his father's funeral.  Built by Adam Clark by 1849, it became a symbol of the joining of the two cities: Buda and Pest into Budapest.  The original was destroyed by the Nazis (like so much) but it was rebuilt after World War II.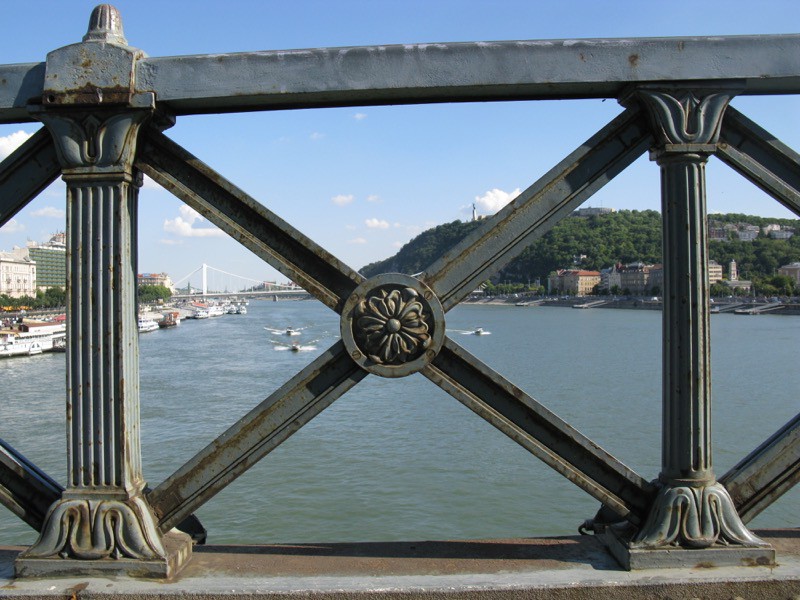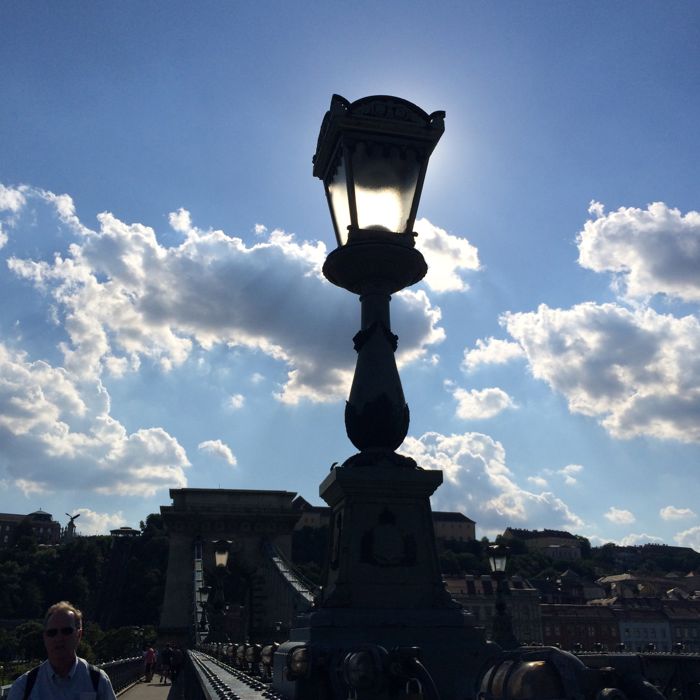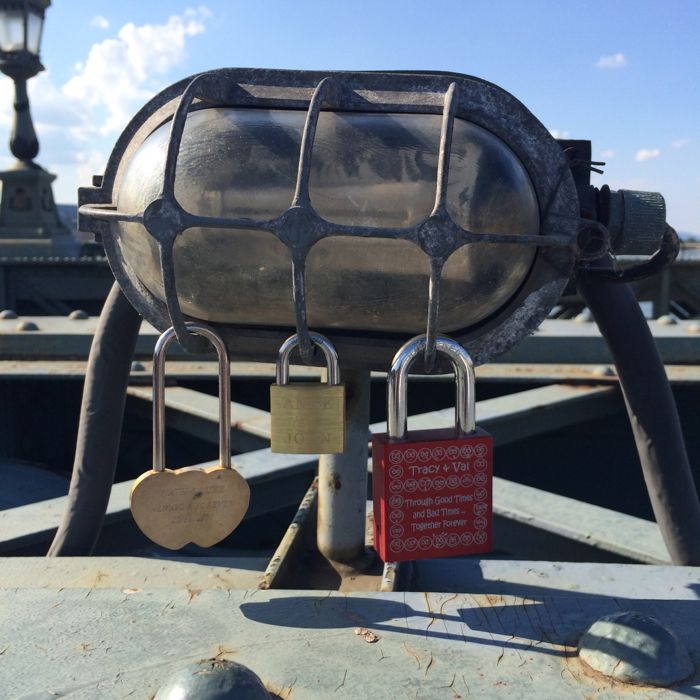 Yes, even here we find those hideous locks of love.  Done! we say, and find our way back home, as we've planned all along to go to our favorite restaurant.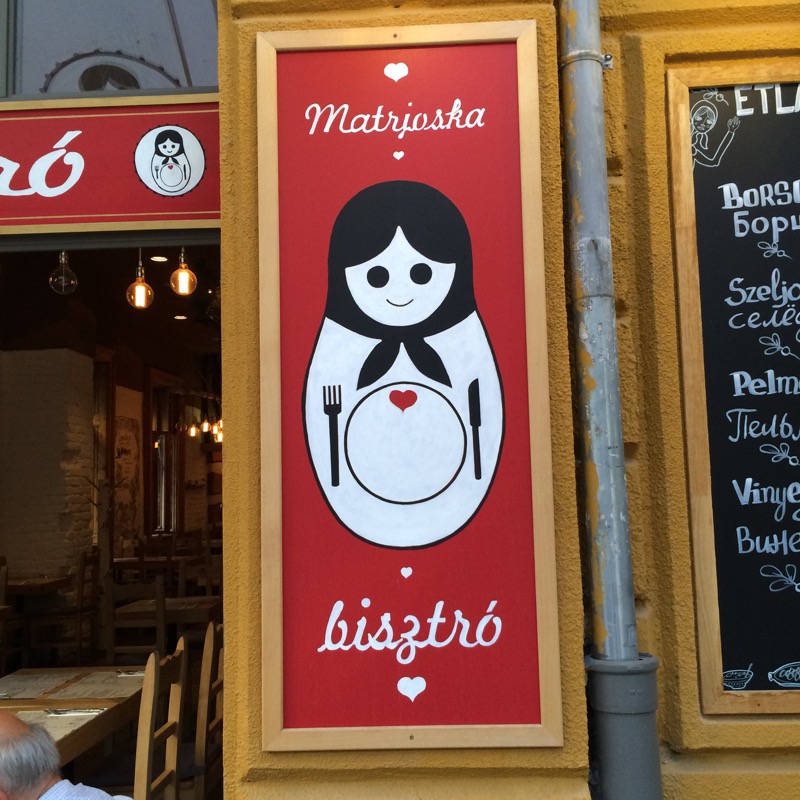 The Matryoshka Bistro, across from our hotel in the little square.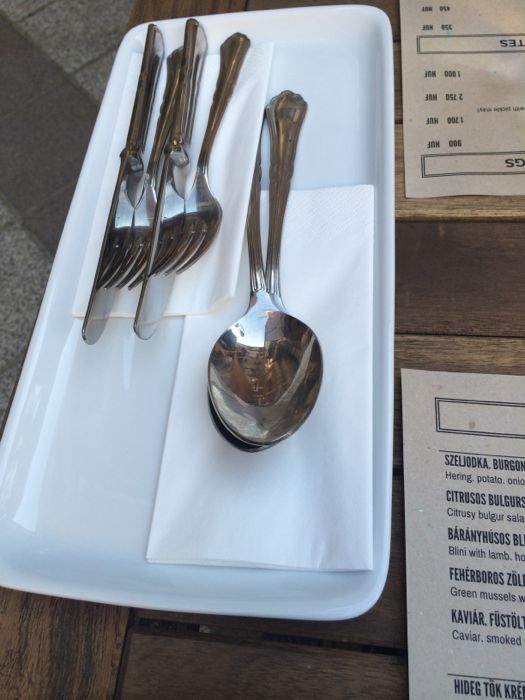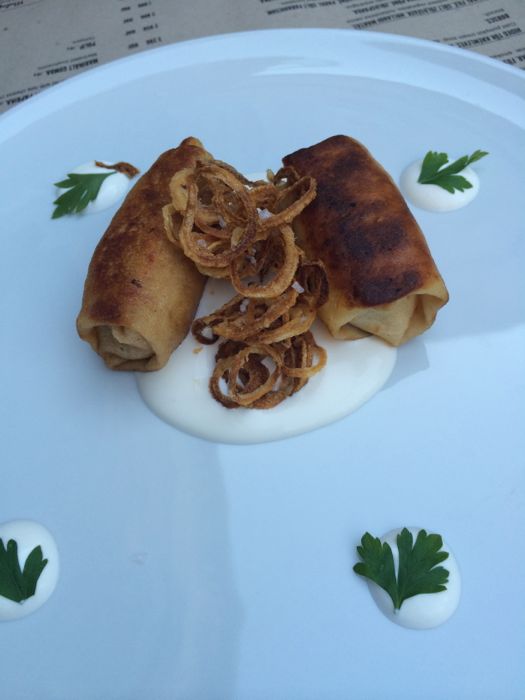 I can envision them in the kitchen with some tweezers, placing the leaves just so in the dollops of sour cream.  This was blini with lamb and homemade sour cream.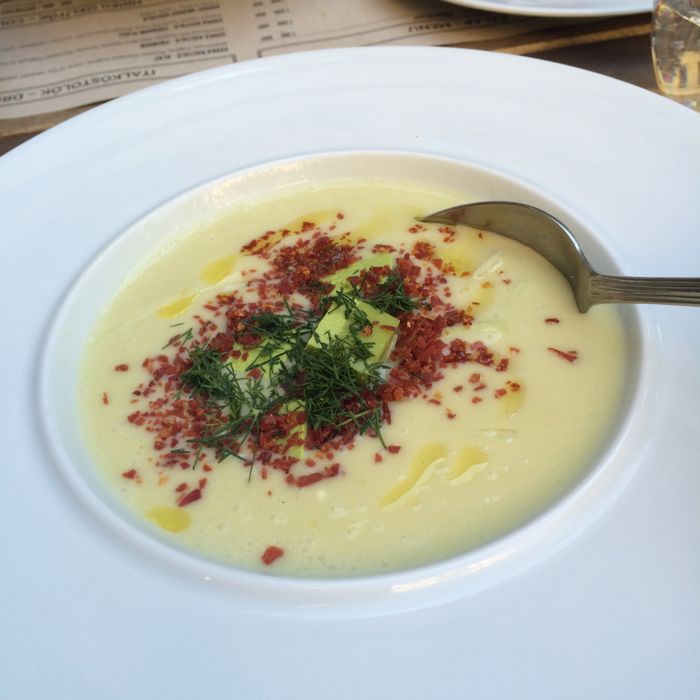 I couldn't leave without having the amazing cold pumpkin cream soup once more.  I love their "ham crumbs" and dill jelly garnishes.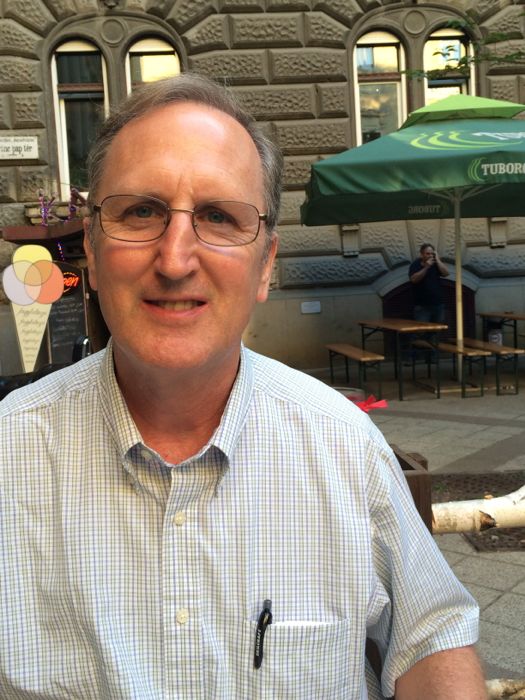 The reason why we travel: at the end of a trip, sitting at our last meal, enjoying the culmination of the experience.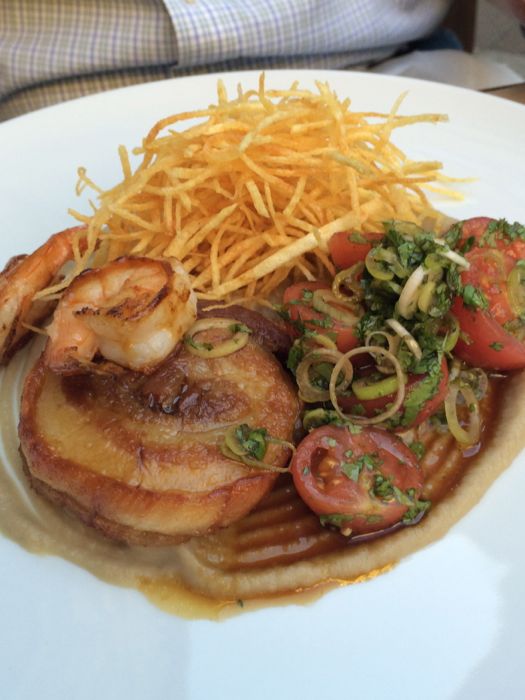 Dave had the rolled lamb ribs, mashed potatoes with butter, spinach and roasted tomatoes.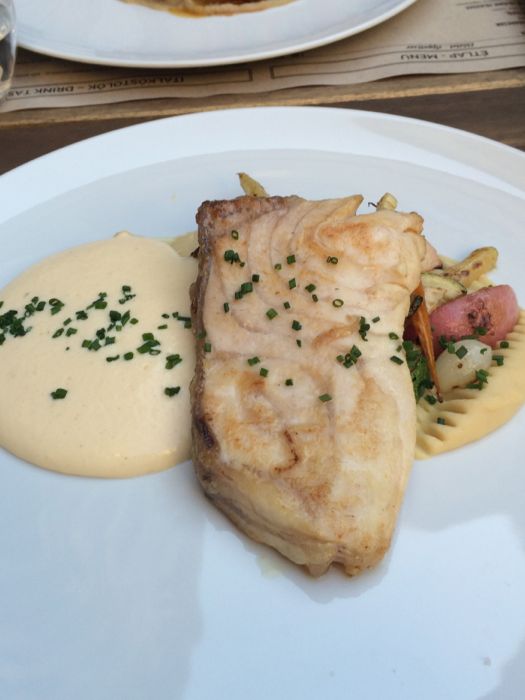 I had the daily fish filet with roasted vegetables and hollandaise sauce.  Their plating is as gorgeous as their food is delicious.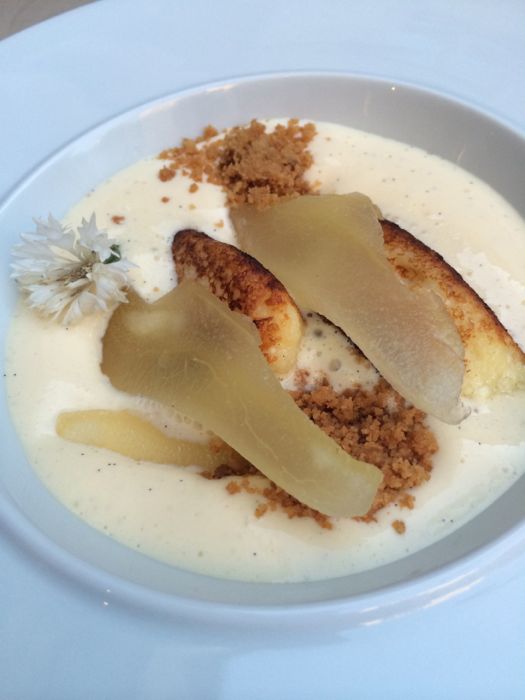 We shared the desert, which I think is their version of "szirnykiki" or cheese pancakes (they are really more cake-like), floating in vanilla sauce, garnished with sliced pear.  We found out that this restaurant also supplied the ice cream to the little ice cream shop next door, so yes, after this we shared an ice cream cone, while sitting in the Loreinc pap ter (square).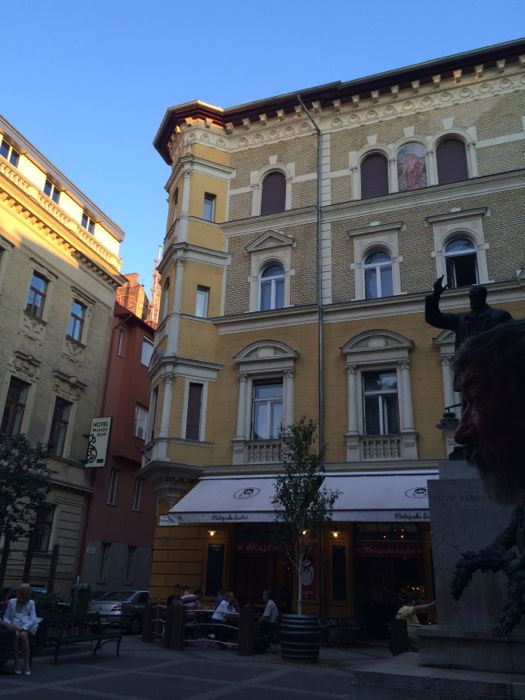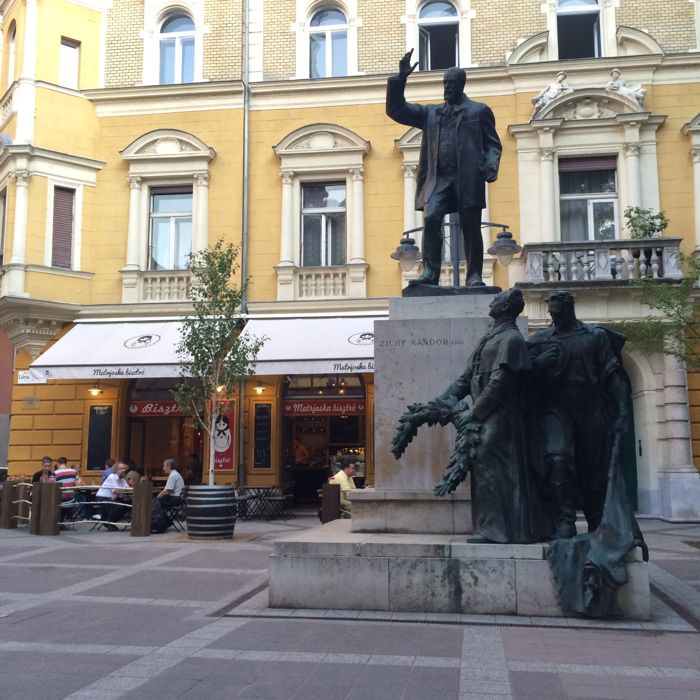 We watched the shadows deepen, the small children cross the square on the scooters, the office workers meet each other at the pub next door, and heard the church bells ring, calling the faithful to evening mass.  We drank it all in, knowing we will probably never come back, even though we say we will.  We lingered long, then finally made our way up the stairs to our room.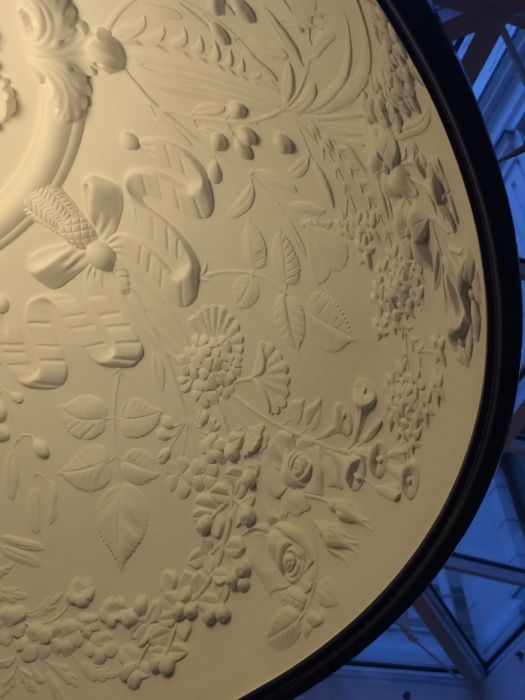 Sculpture in the ceiling of the hotel entry way.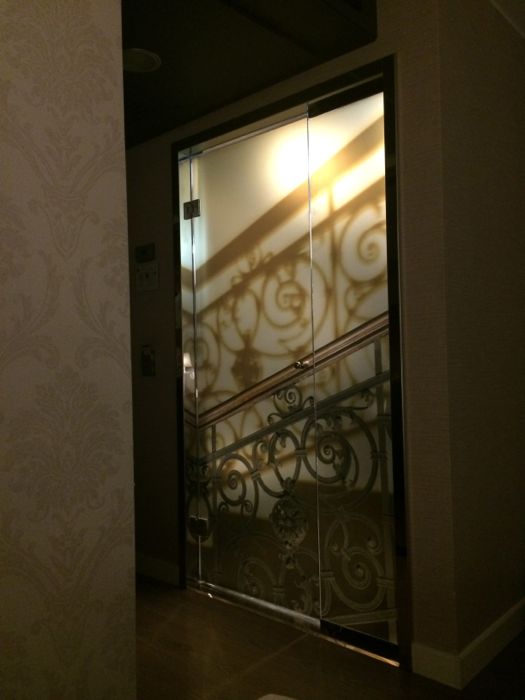 Good-bye Hungary.